Structure your next big marketing campaign using the 5-step RACE Framework to inform your strategy. Integrated across plan, reach, act, convert and engage, our marketing solutions are proven to win more customers and accelerate your ROI
Have you got an up-to-date marketing campaign planning process? Creating ad-hoc campaigns, or re-using previous successful approaches, can be the time-saver you need to get a new campaign up and running.
But, without understanding the wider PESTLE issues before planning a campaign, you could target the wrong audience with incorrect messaging, or even cause offense. Keep reading for examples of marketing campaigns that do just that, plus our recommended tools for your marketing campaign PR management.
What is the RACE Framework?
The RACE Framework supports managers and marketers to integrate all their key channels and tactics into one plan. Apply the RACE Framework to streamline your marketing strategy today, so you can clearly track and manage your campaign goals. Whether you need to grow brand awareness, increase sales, or improve lead generation, we've got the tools and techniques to support your growth.
Thousands of Smart Insights members around the world are applying the RACE Framework to their marketing campaigns, to monitor KPIs at each stage of the customer journey and use data to rapidly optimize their marketing funnel. Find out more.
How do you apply the RACE Framework to your marketing campaign?
RACE, or (p)RACE, is a five-step process that follows the customer journey across (plan), reach, act, convert and engage.
By structuring your marketing plan across the customer journey, you can be confident you're targetting the correct audience, at the right time, with the right message.
We'll now walk through the process step by step in the 5 five points below.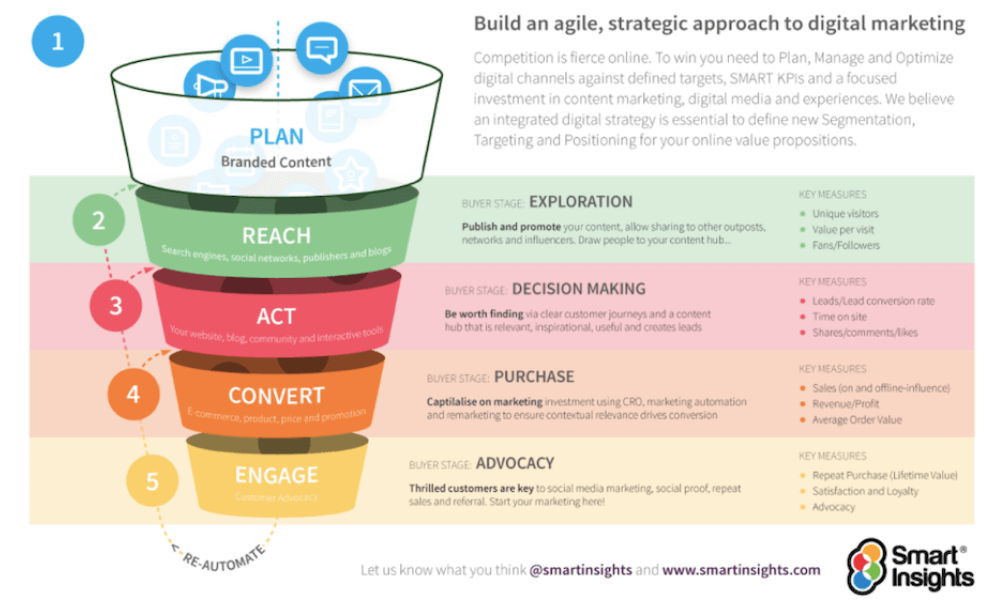 1. Plan
Any marketing campaign needs to start with a plan. But what goes into it?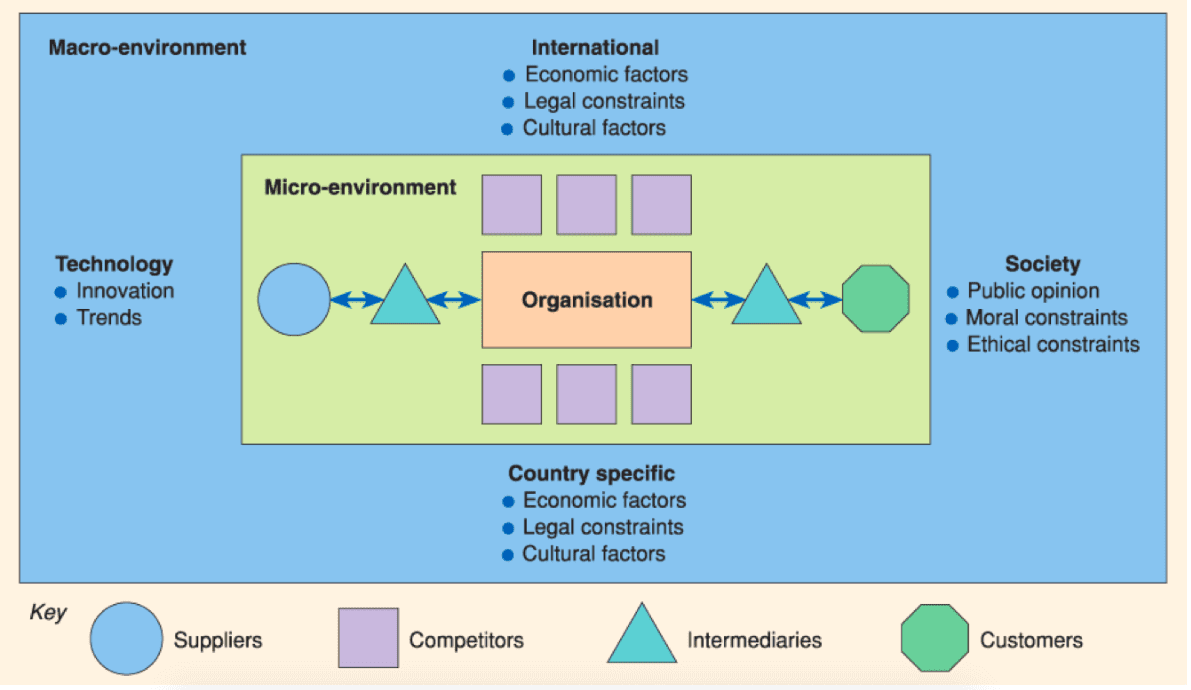 1. Marketing goals and objectives
Make sure these are attainable and SMART.
2. Online market place analysis
This is essential for any business before creating a promotional campaign. Many businesses will already know their competitors and their marketplace, but this needs to monitor and updated regularly as new customers and competitors change their wider strategy. Agencies in charge of planning and running a campaign for a client need to carry out marketplace analysis before any communications strategy is conducted. Understanding how your target audiences use media means you can have timely conversations with them about the topics they're interested in in the right online spaces.
3. Target audience and audience motivations
How can you develop a campaign if you're not sure who your target audience is? You might already have a target audience that you have analyzed from your database, but how do you envision segmenting your audience into smaller groups of potential customers with the right messaging?
One social post, TV ad, a piece of content, etc. might engage one segment of your target audience but what about the rest? Understanding your consumer/audience's motivations for wanting or needing a problem for a problem they face is needed in order to provide an educated and inspiring answer that encourages interaction with your brand and purchase.
4. Competitor analysis
Knowing what your competitors are doing well and not so well will help you direct your campaign messaging the right way. When carrying out competitor analysis review and compare up to five and consider:
Do they use landing pages?
How often are these updated?
What messages are used?
Which social media channels do they use most?
What are the key messages used via social media (advice, information, inspiration, promotion)?
Are there dedicated phone numbers to call?
What are the calls to action?
What are the core value propositions?
Any incentives?
What works well?
Wat doesn't work?
Here are some examples of big brands that have tried to target trending cultural issues with their campaigns, but lack of understanding of the concept, their audience, or not getting the messaging quite right, have to lead to national outrage.
Dove – Racist campaign
Dove's campaign depicting a woman of color taking off her shirt to reveal a white woman caused a lot of controversy around the image of black women. Many stated that it showed women of color as dirty. However, the actor released a video of herself saying she was disappointed people had thought of the campaign this way. It was shortly removed from Dove's Facebook page.
Avon – body-shaming women
With the growing social following of the body positivity community, it's hard-hitting for women to see, via beauty and cosmetic companies, that they aren't perfect and something natural like cellulite should be hidden via their products. Avon soon apologized for not getting their messaging right.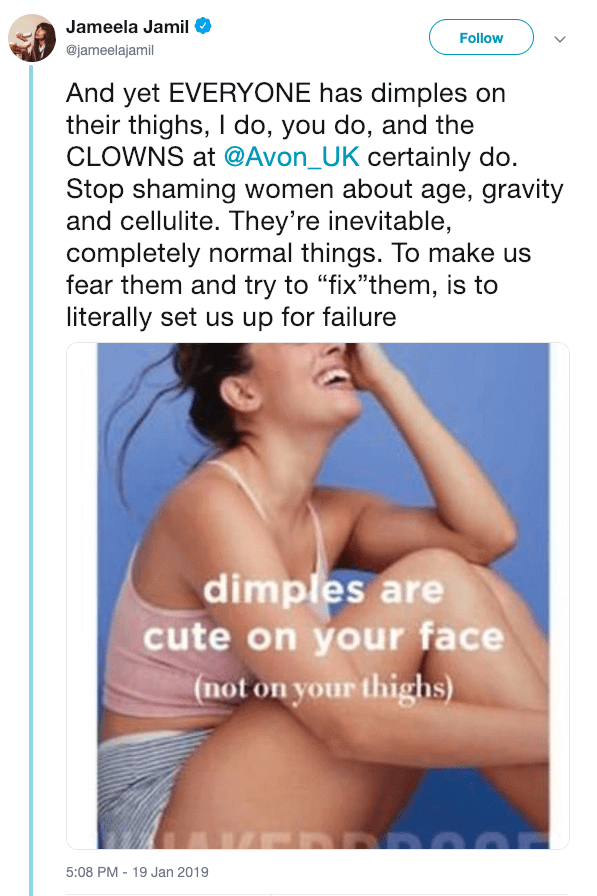 Social listening
Social listening, or social media listening, can be defined as a process aimed at reputation management and market research. Through social listening, your key audiences' public content and conversations, identified through blogs, social networks, and forums, can be monitored to inform customer engagement, collaboration, and new product development.
Implementing social data to inform your marketing campaigns means you can be assured that your content hits the spot for your target audience while avoiding bad PR.
2. Reach
Now it's time to think about your media plan and schedule. We prefer using a visual timeline or Gantt chart in order to see when media communications are scheduled and who is responsible for setting them live.
Different types are communications are needed in order to improve reach and cut-through with campaign reach, including:
Repeated communications – How many times will the channel you've selected repeat the same message to reach different people at different times? On a single channel like TV, the frequency should be capped at four whereas social media messages can be repeated as many as seven times in order to maximize the number of people who see it at different times depending when they're online.
Different touchpoint communications – Using just one channel (unless research and thorough planning have shown it's best) is not the ideal way to reach potential customers. Many online consumers visit different sites in one browsing session, swap between desktop, mobile, and tablet browsing, and are online at different times. Mapping out a customer journey plan, understanding how you can repeatedly get in front of your audience at the right time.
Campaign content and offers – How can you sustain your marketing campaign with different creative and content? If you're running a long campaign stretching across many months, your audience won't want to see the same images and content being used. Re-engage them with different pieces of content.
Drive offline media-to-digital response – Consider how you drive your audience from offline media to digital channels to encourage participation and sharing.
You also need to consider the budget within this section. Does one channel need a higher budget? Do you need to invest in analytics software to help review results and understand how your campaign is performing?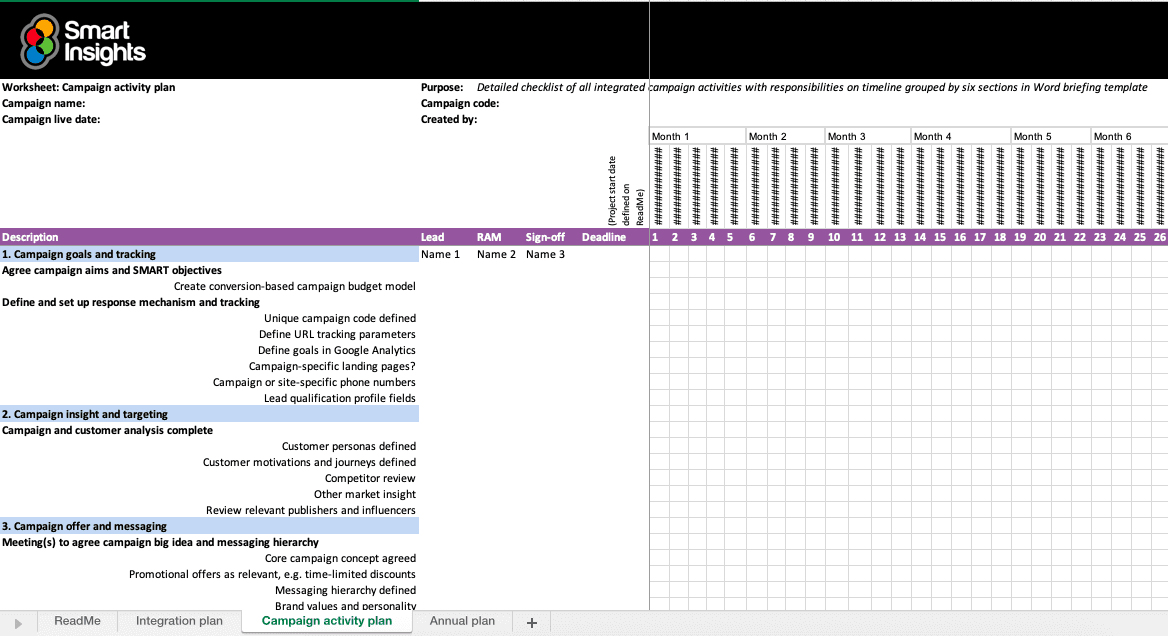 3. Act (interAct)
How will your target audience interact with your brand or participate in the discussion?
What types of content will get your audience talking and interacting with? Think specifically about what works well with your audience, including:
Infographics
Written guides and PDFs
Games
Videos
Quizzes and interactive tests
Our content marketing Learning Path has tools and templates to support you in thinking through the dimensions of different content based on what you're trying to achieve as a business how your audiences might respond.
Take a look at the Smart Insights Content Matrix to compare the roles of content across your goals of inspire, entertain educate and convince.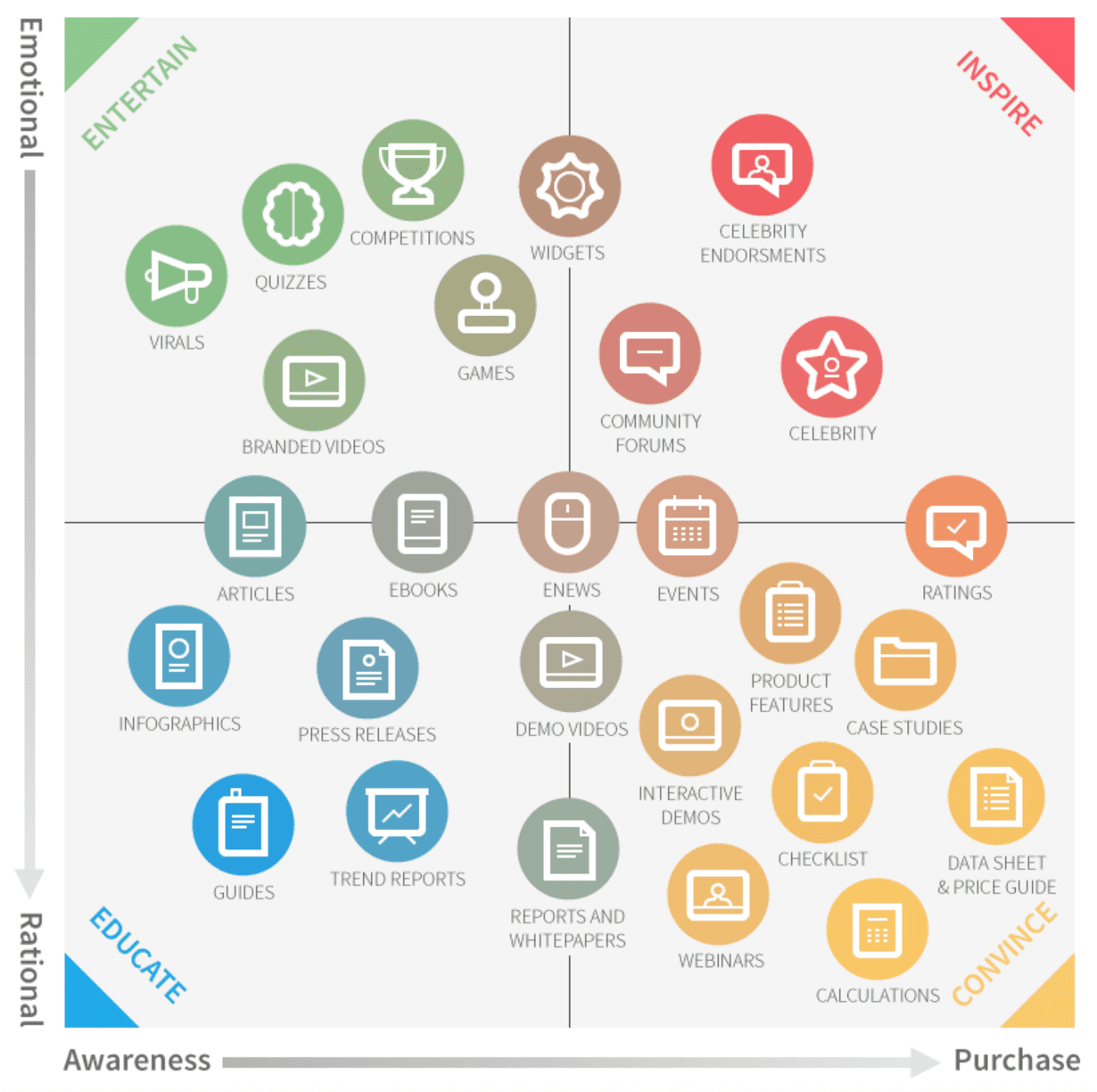 4. Convert
It's time to start thinking conversion.
Have your landing pages been checked? Do they need updating? Are they accessible and readable?
One of the best marketing theories I have come across for web optimization is the common sense approach or the "don't make me think" theory by Steve Krug. Is the page you're directing traffic too clear, concise, and easy to understand? Is the navigation simple to use so your users "don't need to think"? Complex web pages and confusing navigation systems frustrate users who can't find the information they need or make the purchase they want, quick enough.
Pre-live testing
Constant monitoring is needed so you can be agile to changes that are needed. If your marketing campaign isn't reaching as many people online as you had anticipated, have you got a contingency plan and the budget to increase your ads? Is the target percentage of users converting on your landing page? Do you need to make last-minute changes?
You always need to be ready to make additional improvements to campaigns when live depending on the reception of your campaign. Optimize your marketing campaign by rotating assets to see which perform better, does your audience respond positively to videos, images or text-heavy posts?
A/B test your key marketing campaign pages to see if improvements can be made – remember to change just one thing to measure its impact. Is there a specific time of the day that works better? Consider changing a percentage of your updates/posts to that time in order to reach your audience.
5. Engage
To improve reach further than your original first-degree media investments, your marketing campaigns need to be engaging enough that they encourage, or promote customer advocacy and sharing online with their connections. If you're running a campaign to bring in "X" amount of new sales, how will your current customers feel about missing out? Having a plan in place to integrate customer advocacy is essential in maintaining your current customers' loyalty and trust whilst gaining new customers.
The best example of customer advocacy is a "refer a friend" scheme, or encouraging your current customers to share your campaign on social media to enter into a prize draw. Budgeting for incentives is also essential, as, despite 90% of marketers claiming that they are "customer-centric" in their approach, only 17% feel valued by brands. If your customers don't feel valued, they are less likely to promote and share your campaign to their network.
However, if you're confident in your product/service and feel customers are willing to share their experiences with your brand without incentive, then you've built a strong and credible brand.
Apply the RACE Framework for marketing campaign success
As we've seen above, the RACE Framework supports managers and marketers to integrate their campaign strategy and channel tactics across the customer journey of plan, reach, act, convert and engage.
By streamlining your marketing plan, you can track the metrics which matter and optimize your funnel to achieve more conversions whilst effectively managing your customer retention with key digital channels.
The RACE Framework has been proven to drive growth and accelerate digital marketing ROI. Get started today.
Source link