Five steps that you can take to gain insight from your customer insight and prepare for your recovery
Just as no one could have predicted this year's events, no one knows exactly what a post-Covid world is going to look like. One thing we can be sure of, however, is that some change is on the cards. The longer this situation plays out, the more we're all seeing shifts in consumer behaviour, product demand, customer relationships, and priorities – even the term 'essential' has taken on a different meaning for many of us over the past few months.
Changes in your business are happening right now. It's time to react to your consumer's behaviour, gather all of data that will help you take the steps to recovery, and make sure your customer experience (CX) is ready and suited to this new post-Covid customer base.
1.     Evolve with your customers – find out what's changed
There's no doubt about it – this situation has forced us all to change in some way, whether it's the way we interact with people, what we deem important, or how we spend our money. As nearly half of global consumers say they will not return to shops for 'some time' or a 'long time' after lockdowns ease, we can feel the landscape changing right beneath our feet.
Businesses simply cannot come out of this situation believing that the same 'pre-Covid' rules still apply. The fact of the matter is, your customers have changed, and you need to change with them. Whether the past few months have caused your sales to dip or spike, it's time to go back to the drawing board and revaluate who your customers really are.
Feefo's CEO, Matt West, believes that it's now more important than ever for businesses to keep their ear to the ground. "Without the means to keep an eye on the changes that are happening, you run the risk of losing touch with your customers. Companies who can get their hands on the right insight can use it to adapt their CX, better support their customers through this time, and make the changes they need to strengthen those relationships once this is all over."
Take a good look at every single communication and interaction that you, as a business have with your customers, both now and before this period. Make sure you cover your social media, your customer reviews, your survey responses, and even the responses being given in your call-centres or customer service departments. What are you doing that's getting a positive reaction? What is less successful than it was before lockdown? What can you see changing? Perhaps products that were popular before are no longer performing, or vice versa?
Don't underestimate the power of customer feedback to give you answers to all of these questions. Whilst the natural assumption may be that customers are too overwhelmed and engulfed in the chaos of Covid-19 to give you the time and insight you need, now is exactly the right moment to ask them for it. What were once normal, everyday transactions now hold a lot more emotion, and your customers want to let you know how your business is making them feel. Collecting feedback at every stage of your customer journey (and that means those who haven't made it to the checkout page, too) can help you identify where your customers need more support, what changes you should  make to improve your customer experience, and how you can take the steps to build relationships that will stand strong long after this pandemic has run its course.
2.     Give your customers the 'human' connection they need
These last few months haven't been easy on any of us. A general sense of nervousness has encouraged us all to not only reach out to our friends and family for support, but also look to the businesses we deal with for even the smallest hint of an emotional connection. As businesses step away from their physical stores and solely into a digital space, it's never been so important to make sure your online interactions are as meaningful and personal as they would be face-to-face, and that's no mean feat. We've seen huge corporations all over the world drop their façade and show their more 'human' sides, and it's not gone unnoticed or underappreciated, with 57% of consumers saying that they would be loyal to a brand who successfully demonstrates their humanity.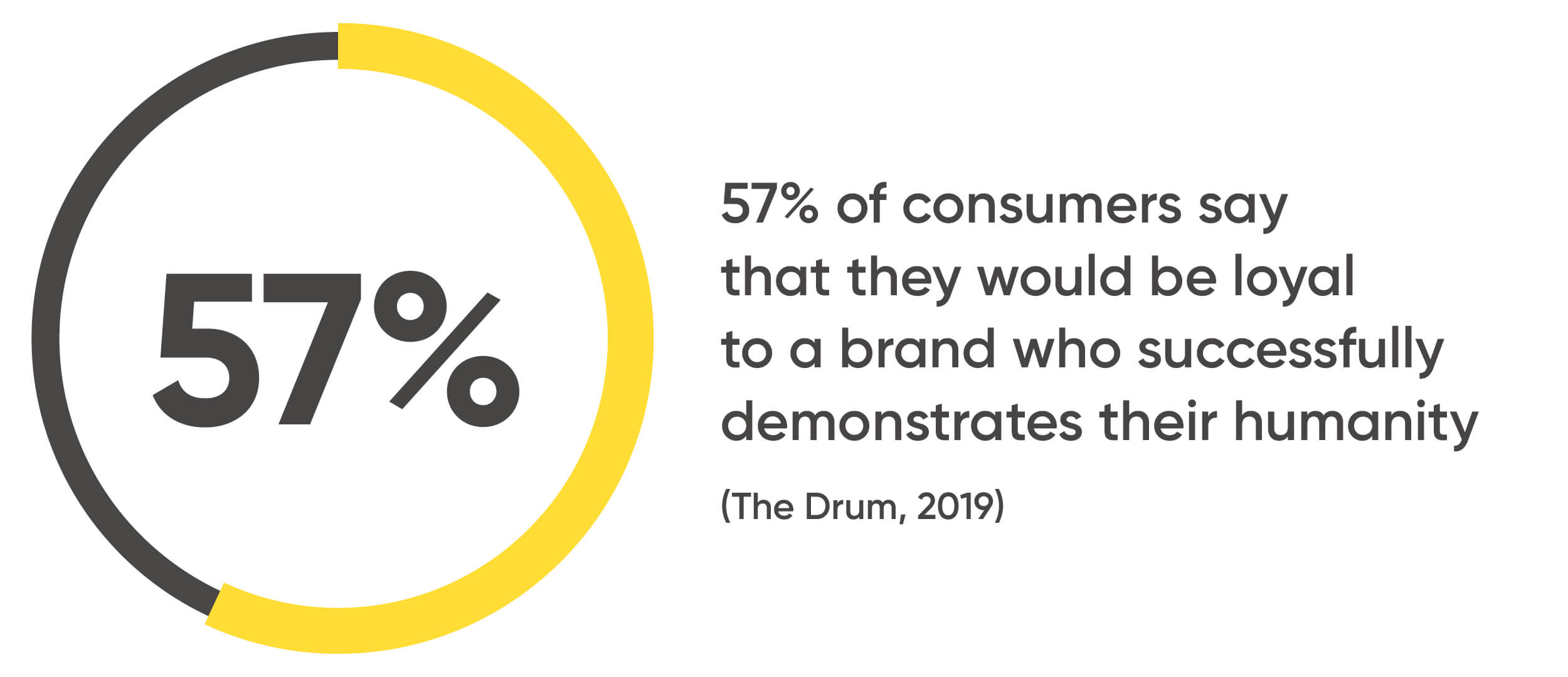 In order to strengthen the relationships you already have and to build new ones that will see you through the coming months, it's time to drop the sales gimmicks, and replace them with moments of genuine connection.
"With millions of us being forced to shop online, and with more time on our hands to research alternatives, businesses need to learn how to adapt to connect with their customers on a more personal and emotional level" says Matt West. "It's crucial that businesses make trust signals a natural part of the customer experience rather than a 'bolt on' at the end of the journey. Without incorporating connections such as feedback from likeminded people into the CX from the very get-go, brands risk losing customers to competitors that they feel stronger emotional connections with".
Whether it's by shifting their marketing messaging, being flexible with returns or earning the trust of customers, brands who make the right moves to tap into a deeper level of connection will come out of this with their customer relationships stronger than ever.
3.     Keep your values at your core
Remaining true to your brand and putting those values at the heart of your business should always be something you do naturally, but once your brand is established and everyday routine kicks in, it's easy to let that messaging get diluted, or even lost somewhere along the way.
This time of crisis has brought with it a much bigger sense of responsibility, wellbeing and community, as we all take a step back and remember what we really find important as individuals. With 21% of UK consumers saying that they've already convinced other people to stop using a brand they thought were not acting appropriately to the pandemic, it's clear that many of us are leading with our moral compass right now – and there's every chance that could continue into the future.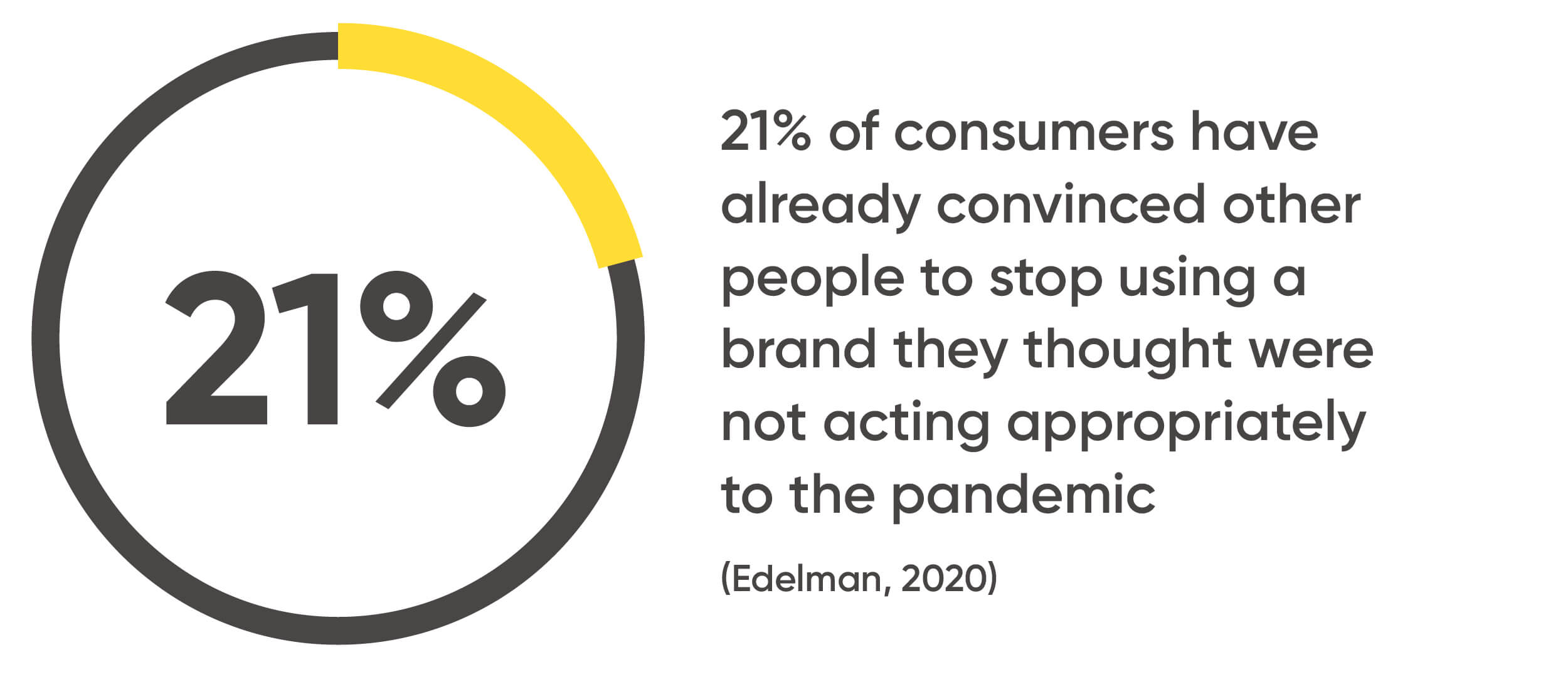 Whilst it's important to communicate with your customers about how you're dealing with the current situation, (you may be helping out your local community, for example, or limiting the number of orders to allow for a safe workplace), remember to carry on asking your customers what's important to them once we're out the other side. Are they willing to pay a little more for more eco-friendly packaging, perhaps? Would they rather have a next-day delivery option, or wait a couple days longer with the knowledge that there fewer delivery vans on the roads? Collecting this feedback will help to strengthen your relationships, let your customers know that their opinions matter, and allow a new stream of ethically aware consumers to discover your brand through the message that is at your very core.
4.     Never forget the wellbeing of your staff
You've probably never been quite so aware of your staff's wellbeing than you are right now, and your customers have the same concerns. Times of crisis tend to reveal to the general public which businesses look after their staff as well as their customers, and the outcome could have the power to influence buying decisions both now and in the future. 53% of consumers feel that brands need to do everything they can to protect their employees even if it meant suffering financial losses, and 89% want to hear about how they're doing just that.
Keeping your employees' wellbeing at the forefront of your mind isn't just beneficial for their own health – it can also help to prepare your CX for whatever is around the corner. Be sure to keep tabs on how your staff are feeling. What do they need from you to work more effectively? What issues do they see arise time and time again? This doesn't just help you to keep an eye on their mental wellbeing, it also shines a light on any processes and areas of your business that need a helping hand – right from the people on the frontline.
When you're working under pressure, especially for an extended period, it's easy for motivation to wane and for customers to start noticing the cracks. If your staff feel safe, happy and listened to, they're in the best possible position to keep the cogs of your business turning, whether that means answering queries from your customers or keeping your website running. As well as employee feedback, make sure you're using your customer reviews to keep staff morale high. "Businesses should never underestimate the effect that positive customer feedback can have on staff morale, especially when people are working hard, potentially in reduced teams", says Matt West. "Sharing uplifting feedback and praise from happy customers who have been positively impacted by the hard work of one or many of your team members can do wonders for job satisfaction and wellbeing".
5.     Take a positive approach to recovery
The words 'positive' and 'crisis' don't often fit together in the same sentence, but taking a positive and pro-active approach to your recovery plan can put you in good stead for the future. This disruption has forced us to step away, both physically and mentally, from our day-to-day routines, and we've got an opportunity that very rarely rears its head – to take a breath and take a good look at every part of our businesses. Never before will issues have become more apparent and visible than they are now – both the successes and the potential cracks. Use this time to take stock of everything from the processes you have in place, the skillsets you have in your team, and the customers you're dealing with. Don't stop there, though.
This has been a great example of how customers can change overnight, and many of us have learned the importance of keeping plans agile the hard way! Your eyes have been opened to exactly what you need to be taking note of – how your customers are feeling, what's important to them, and what your staff need to do their jobs better. Use this insight now, but never stop asking for it. Make collecting feedback part of how you do business, and how you adapt your plans as you evolve with this post-Covid world.
Things to take away
Use customer feedback to understand exactly what's changed for your customers, and what they're responding well to
Introduce 'human' interactions across your customer journey – whether that means adding 'how to' videos, implementing live chat, or adding customer feedback from likeminded customers on your site
Remember your core values and ask your customers how they feel about them. Consumers are far more switched on to the brand's core beliefs, so make yours known!
Reach out to your staff to discover what support they need, and which processes could use some improvement
Share your positive customer feedback with the whole team to raise staff morale
Remember that your customers can change overnight – make your plans agile and never stop asking for feedback!
If you'd like to find out more about how to implement customer feedback into your recovery strategy, get in touch.
Amy is the Senior Content Marketing Executive at ratings and insight platform, Feefo. Having worked in marketing for the past eight years in various industries both across B2B and B2C, Amy now coordinates and creates various marketing material as part of Feefo's content team. Working the creation of everything from eBooks to infographics and blogs, Amy specializes in retention content for existing customers, and likes to get involved with the more creative side of Feefo's content. You can connect with Amy by reaching out to her on LinkedIn.
Source link