Stay calm, slow down and refocus your marketing priorities to tackle the current COVID-19 challenge
The world of marketing is a busy, hectic and uncertain one at the best of times. From the changing nature of consumer preferences to the evolution of new technologies and digital channels, over recent years marketers have had to adapt to changing circumstances and make the most of new opportunities.
In addition to these micro-challenges, the last ten years since the financial crash of 2008 has posed several macro challenges, too. The nature of work itself has become very different, with a steady rise in contracting and freelancing, remote working and even changes to employment rights. All of these factors have meant that marketers have had to become more resilient and adaptable.
Enter COVID-19…
The recent coronavirus outbreak has tested workers across all sectors in new and unprecedented ways. At the time of writing, the UK Government has enforced a nationwide lockdown, closed schools and implemented strict social distancing measures, all of which will have a knock-on effect on the way we manage our daily lives.
These changes can create or heighten anxiety in an already stressed workforce. According to the Mental Health Foundation, around 70 million workdays are lost each year to employees being off sick due to mental health-related problems in the UK, to the cost of £2.4 billion.
No one knows for sure how long the coronavirus crisis is likely to last, so we must continue to be vigilant and carry on with our lives as best we can, which includes our roles as marketers. With so much news occurring at such a fast pace, what can we do to stay healthy, maintain our mental wellbeing and be productive at work?
Below are a few steps we can take as both individuals and marketers to stay informed, proactive and be at our best during difficult and uncertain times.
Develop better mental hygiene
To be effective marketers, we first have to develop healthy mindsets and ways of thinking. Judson Brewer, an associate professor at Brown University's Schools of Public Health & Medicine, recommends people who are feeling anxious practice simple mindfulness techniques to keep themselves grounded.
In his post from Harvard Business Review, Brewer explains that uncertainty can be compared to a virus itself and that anxiety is spread by social contagion. Knowing that uncertainty can spread through the viral vector of anxiety, there are three techniques we can use to stay mentally connected:
Pause and take a breath –
Taking a moment to pause in stressful situations can help ground you in calmer emotions. Another technique is to anchor your awareness in an external object (e.g. look out a window at trees or nature, or listen to the sounds around you)
Get in touch with your calm –
Pause and notice what it feels like when you are calm among the storm of people feeling anxious. Calm feels a lot better than anxiety, and when given a choice, our brains will eventually learn to perform the most rewarding action
Our brains are hardwired to plan for the future. However, we don't have enough information about how this pandemic is going to play out, therefore planning 6 months is difficult. So when you notice your brain spinning out into future thinking and worrying, take a mindful pause and remind yourself to take it one day at a time.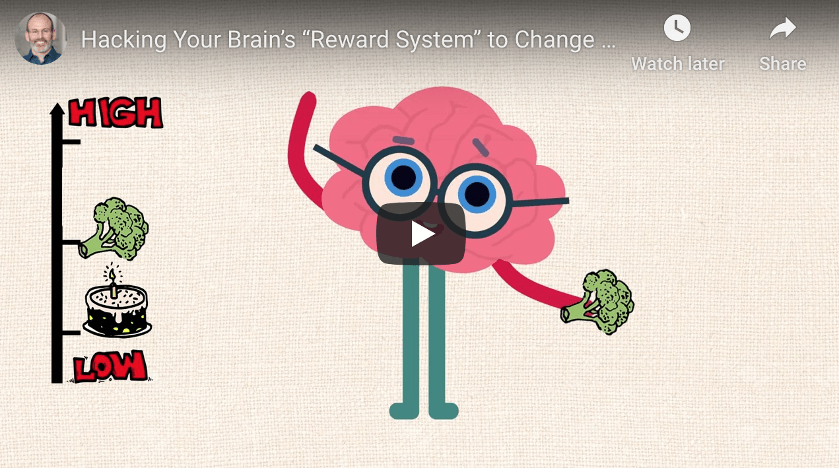 Source: https://drjud.com/hacking-your-brains-reward-system-to-change-habits/
https://www.youtube.com/watch?v=WQ40hNdZmfQ&feature=emb_title
Slow down and make better decisions
There are many factors related to the coronavirus outbreak that is causing anxiety. Art Markman, Professor of Psychology and Marketing at the University of Texas at Austin, believes that there are three key factors:
There is a looming present threat. The disease is real and we can see live reporting on developments every minute of the day

There is a lot of uncertainty about the spread of the virus and it's this uncertainty that increases our attention to it

People have little control over the spread of the virus
Uncertainty makes us crave more information, which means we spend more time watching/ reading/ listening to the news. And the lack of agency causes people to seek out actions that will make them feel more in control (e.g. panic buying).
Markman advises that we should slow down to make better decisions as this will enable us to engage in deliberative reasoning with data. We should only act based on deliberation, sober reflection on data and discussion with experts – not in reaction to a headline or a tweet.
In our roles as marketers, we will need to do our best during these challenging times to consider both short and long term priorities for our brands and what we need to do to make the right decisions. For example, for some companies this may mean suspending certain performance marketing campaigns while demand is low, and focusing instead on long-term brand-building initiatives.
Refocus your marketing priorities
With so much going on so quickly, it's tempting to start taking action immediately. However, as Art Markman advises above, slow down when making big decisions and take time to consider your marketing priorities.
A lot will depend on the type of business and industry in which you're involved. With so many changes to ways of working (remote and flexible working), the cancellation of mass gatherings and consumer uncertainty, it's important to review your marketing priorities and objectives concerning current events.
For example, at the start of the year your objectives may have been geared around breaking into a new product sector or targeting new consumer segments. Whilst these objectives should not be discounted, in the wake of the COVID-19 outbreak it will also be prudent for brands to focus on retaining their existing customer base through content, social media and CRM and building their brands for the future. In the very short-term, it's important to be proactive, present and supportive of your existing customers' needs and concerns, as seen in brands' COVID-19 advisory notices: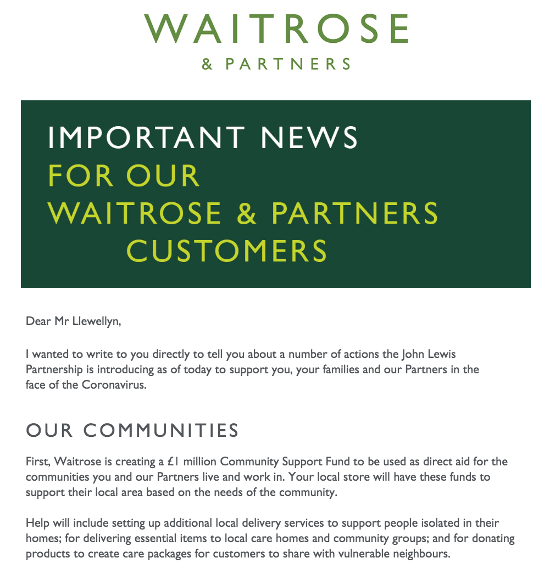 But do not lose sight of the long-term. This crisis is only temporary and there will be a time when things start going back to normal. Look beyond the next 6 months and consider what will be important leading up and into 2021. Set the right marketing objectives for the year ahead by reviewing your mission statement, developing a clear understanding of key trends and insights and using data to support your decision-making: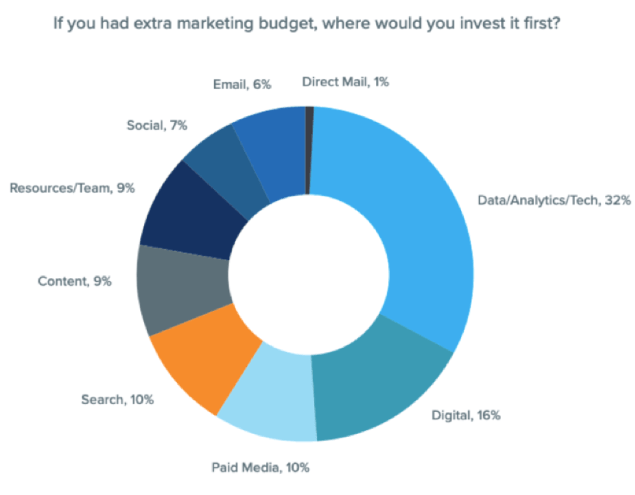 Consolidate your marketing skills
With shifting objectives and priorities, as well as new ways of working, you may find that certain projects and campaigns you were due to work on have been postponed. For example, we were due to hold a department-wide conference this month to present and discuss our marketing plans for the year, but this has now been pushed back to September.
As a result of changes like this, there may be an opportunity to reflect on your marketing skills, capabilities and continuous professional development. CPD is really important for marketers and yet we rarely spend the necessary time to educate ourselves and develop our skill sets. Use any extra 'free time' wisely to improve yourself and plan for the future. Identify topics and subject areas that you believe will be important in both the short and longer-term and seek out relevant resources to support you.
CPD can be practiced through reading, writing and professional courses, but also through practical application. You may find that certain teams or departments in your organization need extra help and support at this time. If possible, offer to help and be open-minded about what you may learn as part of this process.
Keep talking
Although we're now working in more socially restrictive ways, we should continue to talk, communicate and engage with others. I get a lot of value in working alongside colleagues in an office environment, the daily social contact helps generate ideas and solve problems.
Few of us are used to working remotely on such a large scale over such a long period. Working from home can feel unstructured and isolating. Last year, a study of 2,500 remote workers by online brand development agency Buffer found that loneliness was the second-most reported challenge, one experienced by 19 percent of respondents. Loneliness can make people feel less motivated and less productive.
To ensure we limit any impact on morale and productivity, Barbara Larson, a professor of management at Northeastern University in Boston who studies remote working, suggests teams do their best to sustain a semblance of normalcy and camaraderie in unconventional ways. This might involve virtual get-togethers or coffee breaks so colleagues can catch up over Teams, Slack or Skype.
And marketers can use these tools to their advantage. For example, Microsoft Teams allows groups of people to edit and update documents in real-time. And tools such as Microsoft Planner enable groups to remotely project manage campaigns from across different regions and territories: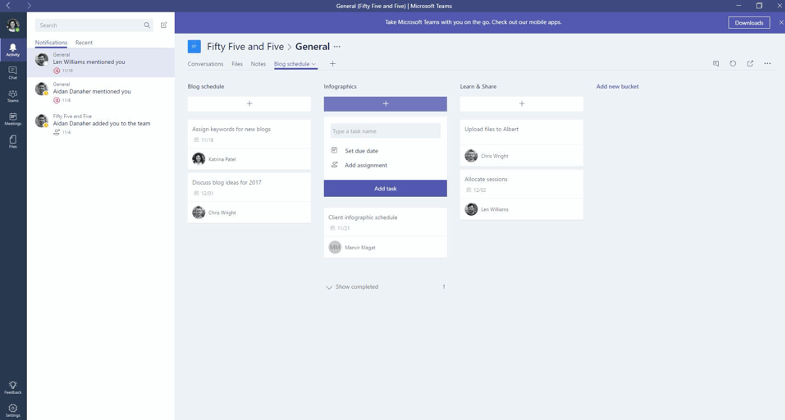 Final thoughts
It's important that during this crisis we take care of one another and ourselves. This will mean being aware of our mental health and wellbeing, but also our on-going responsibilities as marketers. It's no doubt difficult to focus with so many new developments occurring every day, but this virus will eventually pass, and when we start returning to normal we need to be prepared. Developing our marketing skill sets and setting realistic but ambitious objectives will be more important than ever.
For more guidance on mental health and wellbeing, here are some helpful resources:
Source link