In Duluth, Minn., 20 distressed houses scattered about town will soon get a Cinderella-style roof-to-foundation renovation needed to make them livable. Once they're ready for their close-ups, these fresh-faced gems will be sold for below market-value prices, but not to just anyone. Their buyers will be owner-occupants with an average income of 60 percent of the median for the area. 
This project comes about through a collaboration between the nonprofit One Roof Community Housing and North Shore Bank with funds from the Federal Home Loan Bank of Des Moines and several other agencies, and is just one example of how community banks can solve the affordable housing crisis.
"That helps provide stability in the neighborhood with increasing rates of home ownership, as well as providing affordable home ownership options for folks in the income range we serve," said Jim Philbin, community land trust director for One Roof Community Housing. 
Affordable housing is an issue throughout the United States. Contributors to the problem include home price and rent increases that have outpaced wage growth, aging housing stock and not enough housing. 
"In Duluth there's far more demand than there is supply," said Brian Murphy, chief lending officer for North Shore Bank. "It's clear that demand and supply are out of balance." 
Nonprofits, public agencies and developers devoted to ensuring people have places to live are piecing together different methods for making that happen with the help of programs and funding streams from local, state and federal governments, as well as partnerships with community banks.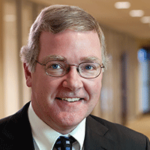 North Shore Bank has long collaborated with One Roof, Murphy said. Their ongoing project received $500,000 from the FHLB of Des Moines for its newest rehab project. Additional funding sources are the Minnesota Housing Finance Agency, which contributes bond funds, grant funds and interim construction financing; federal Community Development Block Grants and the HOME Program as administered by the City of Duluth; and the Greater Minnesota Housing Fund, which provides gap loans and down-payment assistance loans to buyers.
Collaborations with North Shore Bank are crucial, with the bank also providing interim construction financing and loans for many of the buyers who are investing in their first home, typically through the MHFA. "They were really the first to invest in us way back when we were just starting out and not very well known," Philbin said. "They're a good community bank and have really followed through in so many ways over the years to support both our projects and our buyers." 
North Shore, for its part, knows the mortgage market, with a 30 percent market share, Murphy said. Its fourth-generation family owners want to be supportive of their community. "To me, it's a perfect situation. We've got the family ownership. Duluth is the only community we're in. Our mortgage division is a very profitable part of the bank," Murphy said. "We have the ability to give back. We've been able to partner with organizations like One Roof, which we think a lot of, we think they're doing great work here. It all lines up quite well."
Collaborative funding
The Federal Home Loan Bank of Des Moines has been funding affordable housing initiatives for 30 years with its Affordable Housing Program.
A variety of financial institutions, including community banks, serve as a conduit between its program and the housing organizations in their communities. Local banks sometimes build upon that involvement by offering matching financing and donations to the housing projects or writing loans for the first-time homebuyers who are recipients of the programs.
"Part of our mission is we give back to the communities that we serve … funds to help them with their missions and their communities for affordable housing," said Mary Jo Vogl, homeownership analyst for the Des Moines bank.
In 2019, the FHLB of Des Moines funded 88 affordable housing projects throughout its region. Vogl, too, said barriers to affordable housing include rising prices that can essentially block first-time home buyers from buying a house, as well as limited housing stock. 
"Some communities, especially rural communities, haven't had new housing developed in decades," Vogl said. "I wouldn't say it's only rural or only urban. I think it's statewide, community wide. I think it's a little bit more challenging in rural [areas]."
Resources, contractor availability and finding builders who are interested in building affordable housing because construction costs have gone up are some of the reasons rural areas may be more challenged, she said.
Sometimes, government housing programs are pretty prescriptive, said Kristina Williams, president and CEO of the FHLB of Des Moines. "If you can't follow all the details you can't get the housing credits that you need." 
FHLB member financial institutions can play a significant role in providing affordable housing solutions by working with local housing organizations, connecting them to financing sources like the Affordable Housing Program and state housing finance agencies, and contributing to the public conversation about the connection between economic development and housing, Vogl said. 
All-new apartments
In Cass County, N.D., new public housing is being developed in three phases to replace dilapidated existing public housing, add more units and include amenities to enhance quality of life. Partners include nonprofit Beyond Shelter, the Housing Authority of Cass County and Fargo-based Bell Bank. 
In the first two phases, 60 public housing units in West Fargo were demolished to make room for 85 new units, offices for the housing authority and gathering spaces. The third phase will tear down and replace housing with townhomes and small apartment buildings for seniors and families.
"It's a huge project," said Joe Rizzo, developer for Beyond Shelter. "Not only are we replacing it with new housing with more community space … we've increased the density for affordable housing in the area."
In addition to Bell Bank, which is the permanent lender and will work with the Bank of North Dakota Flex PACE for Affordable Housing, funders for the three phases include the FHLB of Des Moines and U.S. Bank, which is an equity investor of North Dakota Housing Finance Agency's Low-Income Housing Tax Credits and also offers construction loans. NDHFA is further involved through other funds. Additional funding sources include Community Development Block Grants and federal HOME funds.
"There are tons of hoops you have to jump through. … You have to bring in money from a number of different sources, which is absolutely critical," said Blake Strehlow, executive director for the Housing Authority of Cass County.
Numerous entities worked together to plan and bring together the funding for the project, said Nicole Aarestad, vice president/commercial banker for Bell Bank. The collaborations help to raise awareness about the issue, in addition to bringing the project to life.
"We worked on other projects with Beyond Shelter before," Aarestad said. "Being a community bank, we just have a strong commitment to invest in our community. It ties into our values of making the community a better place." 
A significant problem
The issue of affordable housing is multilayered. Habitat for Humanity noted several key findings in its review of Harvard University's Joint Center for Housing Studies 2019 State of the Nation's Housing Report. About 38 million households nationwide — almost one in three with 20.5 million renters and 17.3 million homeowners — spend more than 30 percent of their income on housing. One in six spend more than 50 percent. 
New housing supply, including starter homes, lagged the need by 260,000 homes in 2018, according to the report. The number of low-cost rentals has dropped by four million units since 2011.
Among solutions, Habitat suggested local zoning reform, increased down payment assistance, better access to affordable rents and safe credit, and retargeting tax subsidies to lower-income and first-time homeowners.
Minneapolis tackled zoning this year, requiring developers to incorporate affordable units into new housing developments, both in rental and for-sale units. In one example of an effort to find a creative solution to affordable housing, a partnership announced in January with Sunrise Banks, Aeon, Minneapolis Foundation, Saint Paul & Minnesota Foundation and Frey Foundation will preserve Twin Cities affordable housing units as part of a pilot program. 
Keeping people home
Two other midwestern projects keep existing housing functional for low- and moderate-income homeowners by subsidizing essential home repairs and accessibility for those aging in place. 
In a partnership with Mason City, Iowa-based NSB Bank, the North Iowa Area Council of Governments received nearly $1 million from the FHLB of Des Moines to do deferred maintenance on 42 homes, most belonging to elderly and disabled residents. Their incomes typically are below 60 percent of the median, said NIACOG Senior Planner Myrtle Nelson.
Having NSB Bank as their sponsor is a help to the program, Nelson said. "With these state housing trust fund dollars, we have to show a local match. And, besides that, we also need to have cashflow dollars," Nelson said. "Without (local banks), we couldn't operate. … They're such a critical piece to our being able to do what we do." 
Barrett DeCathelineau, senior vice president for NSB Bank, said the project is good for the county and northern Iowa. The bank is the conduit for FHLB funds and makes a donation to the housing trust fund each year. DeCathelineau also serves on the fund's board. 
"The family that owns our bank believes very strongly in community," DeCathelineau said. "If Mason City and Cerro Gordo County North Iowa do well, NSB Bank will do well. It's things like this that we do and lots of banks do, not just us… This is where we live and work, so we want to do our best to help." 
In Minnesota, Swift County RDA and Swift County Housing and Redevelopment Authority are collaborating on a project with banking partner Financial Security Bank, Kerkhoven, and the FHLB of Des Moines that will repair and retrofit houses. "We prioritize health and safety," said Vicki Syverson, executive director of Swift County Housing and Redevelopment Authority. "And then my priority is always on aging in place, accessibility."
Its Federal Home Loan grant is for $479,000 to rehabilitate 20 homes. The homeowner is asked to make a 25 percent match, Syverson said, though for those who can't match, the housing authority seeks out numerous other funding sources, including Rural Development's Section 504 Home Repair program, MHFA's Fix Up program, HELOC loans and the Minnesota Department of Employment and Economic Development's Small Cities Development Program funds.
"When I talk to businesses, they would like to see new housing, more housing, whether it's owner-occupied or even rental," said Jennifer Frost, executive director of Swift County RDA. "I think a lot of that comes from the fact that it's older and it needs to be rehabbed." 
Collaborations are an effective way to help communities get more affordable housing. "Developing good working relationships with local government organizations is a wonderful start" to removing barriers to affordable housing, said Terri Barrett, vice president/ag and commercial lender with Financial Security Bank. "By working collaboratively on projects like this one, we can pool resources and accomplish wonderful things for our community."
Source link