E-commerce inbound marketing means attracting customers to your online store with engaging and relevant content to increase sales and conversions
E-commerce has rocketed over the last 12 months – and with it, inbound marketing tactics by savvy e-commerce marketers have picked up the pace, competing to attract customers to their site and win that sale. While a healthy e-commerce marketing strategy will always include a mixture of outbound and inbound marketing, with demand and competition peaking in 2021, there's little doubt that now is the time to focus on your e-commerce inbound marketing strategy to increase your return on investment.
The numbers speak for themselves with e-commerce purchases accounting for 16% of all sales in the US in Q2. In fact, 9 countries were predicted over 20% growth in e-commerce post-COVID, the Asian Pacific market alone forecast $2,448.33 billion of E-commerce sales.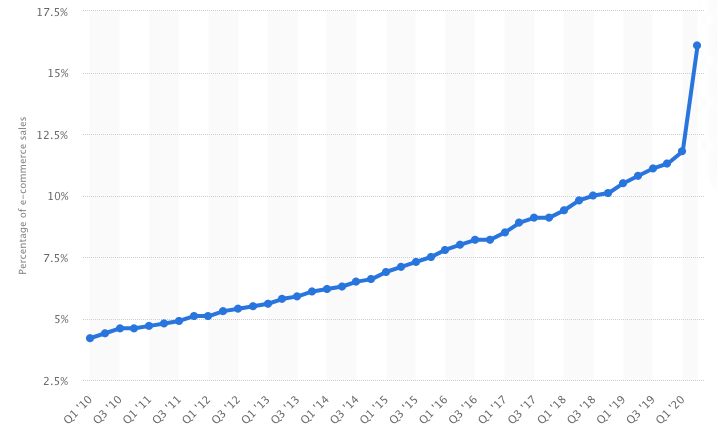 1. Instagram shoppable posts
Over the years, Instagram has grown sporadically in the social media space. Businesses already use Instagram for marketing purposes to reach new customers.
But with Instagram shoppable posts, prospects can now buy your products directly on Instagram. This increases the number of inbound visitors to your [Instagram] store through a seamless user experience.
To utilize this feature, you have to set up your products catalogue on Facebook and connect to your Instagram business account. After this, you can tag any product in your posts that followers can buy.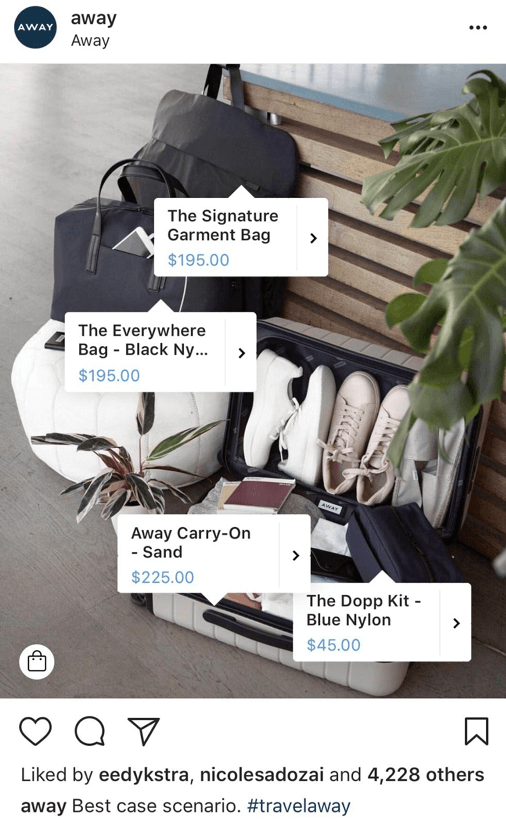 Another way e-commerce stores can exploit this feature is to combine it with influencer marketing.
Core Module
Influencer marketing
Part of the Content marketing Toolkit
Learn how to improve your process of influencer relationship management
Here's an example where Herschel Supply adds a shoppable tag to a piece of luggage promoted by fashion model, Michelle Dee.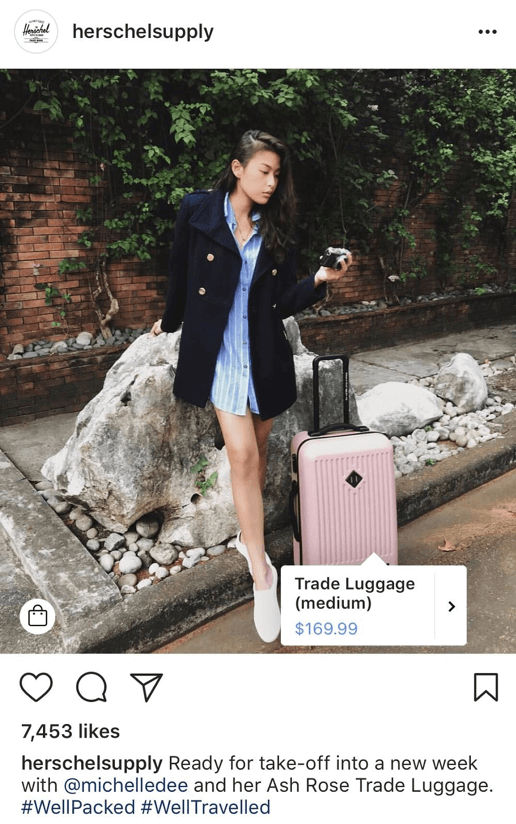 Once your followers click on any of these products, they can fill in their payment details to buy the product. Also, they can get their shipping status information on Instagram.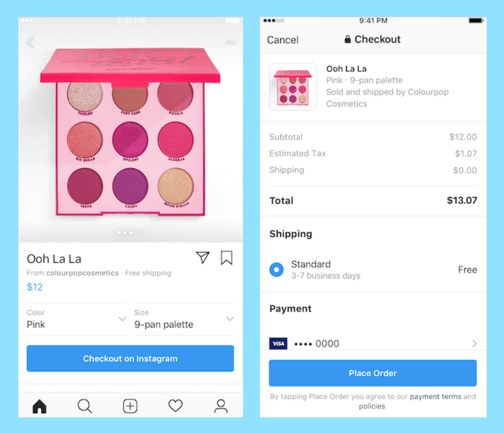 When you create more than 9 Instagram shoppable posts, you'll have a "Shop" tab on your Instagram profile. Here, followers can shop for your products and make purchases.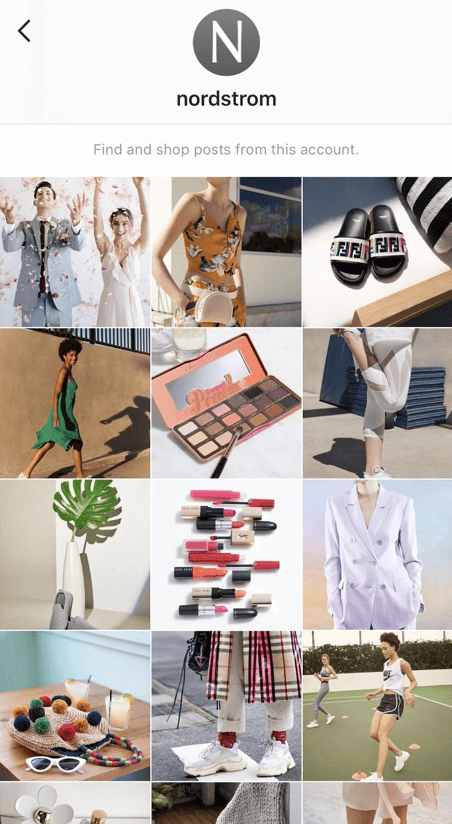 Instagram shoppable posts provide a platform to market your products where it's easy for your prospects to buy.
2. Content personalization
With big players like Amazon and Netflix leading the way, content personalization is a trend every e-commerce store has to adopt. Consider it, potential buyers are likely to buy from your store when you display products relevant to them.
Moreover, 72% of consumers say they now only engage with marketing messages that are personalized and tailored to their interests. So if you're not already, you must consider content personalization as one of your strongest e-commerce inbound marketing tactics.
For effective content personalization, you need to consider the following criteria:
Previous interactions of the visitor on your website.
Demographic data such as location, gender, language, etc.
Time of visit such as time of day, month, or year.
Visitor's declared interests.
Core Module
Digital strategy success factors
Part of the Digital marketing strategy and planning Toolkit
Learn how to define a structure and scope for your omnichannel marketing strategy
Through content personalization, each visitor sees a page tailored to them with products they want to buy. Consider these two pages from FashionWatch. Here's the page for a visitor: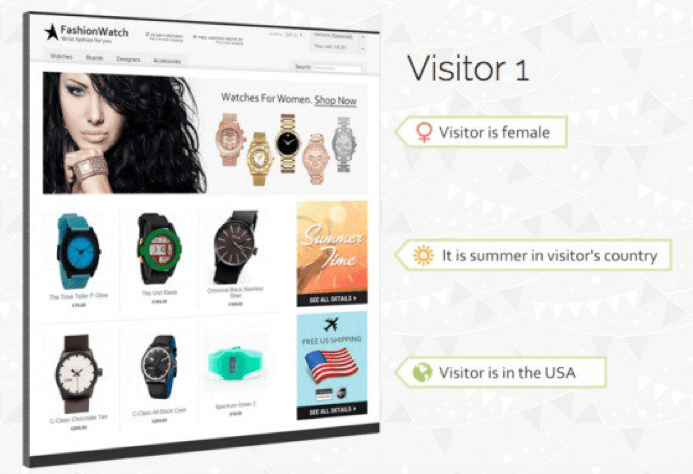 And here's the page for another visitor: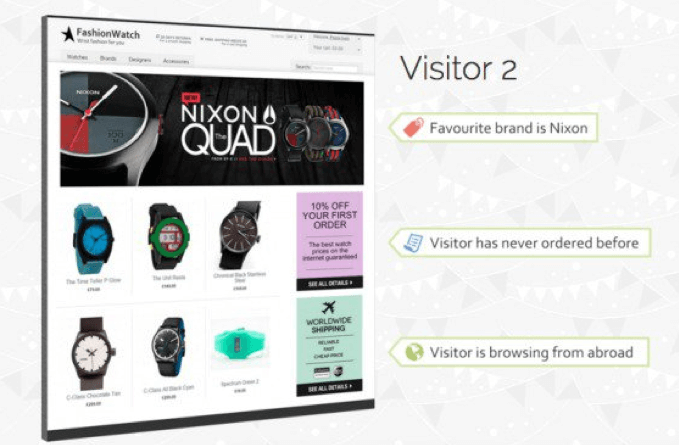 It's evident that both pages have been personalized to the visitor. Thus, each visitor is more likely to make a purchase.
Amazon is a popular example of content personalization. From product recommendations to shipping information based on your location, each Amazon user sees an e-commerce store with their favourite products.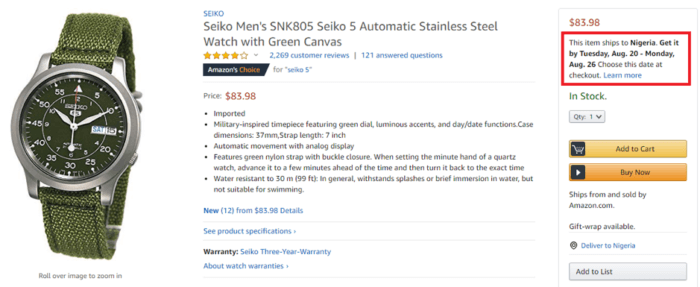 The key to successful personalization is knowing what works for each segment of your audience. Using personas can help you think through a value proposition to nurture your target markets inbound and further down the e-commerce marketing funnel.
Core Module
Define audience personas
Part of the Content marketing Toolkit
Learn how to develop a customer persona that can help you to target your marketing more effectively
3. Augmented reality (AR) and virtual reality (VR)
With augmented reality (AR) and virtual reality (VR), buyers get a better view of what they're buying before they complete their purchase.
AR allows potential buyers to add a product to their environment before they buy. This displays how a product can fit into an environment.
An example is IKEA's PLACE app, which allows buyers to get a better view of what they're buying before they complete their purchase.
With high ratings across the board, clearly this new technology is very attractive to potential IKEA customers. For digital marketers looking for a new direction for their e-commerce inbound marketing, AR and VR give you the opportunity to outpace your competition and delight your customers online.
Over the years, AR has been growing popular and that trend will continue this year. For instance, eMarketer predicts 90 million US monthly AR users in 2021.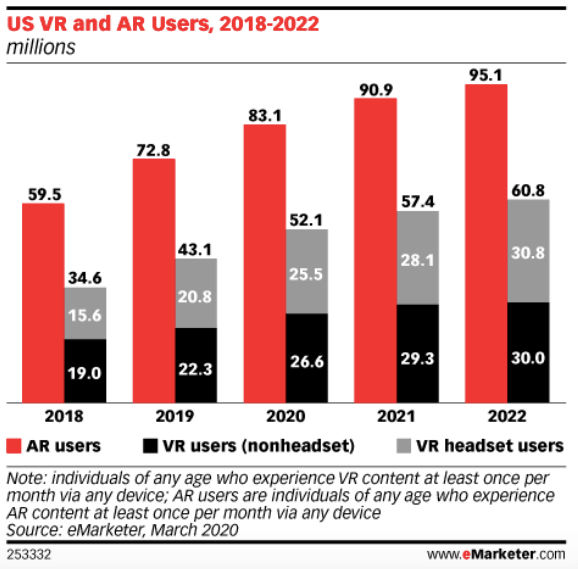 VR goes farther than AR and creates a virtual environment for your product. This is usually applicable to big products.
4. Inbound marketing approach to PPC
While a lot of advertising activity can be classified as an outbound approach, there are search-intent tactics for PPC digital marketers to improve their e-commerce inbound marketing mix. Since PPC marketing comes into play as the user is searching for or about your product, this is the perfect opportunity to direct them to your content to answer their questions, not all too different from an SEO approach.
This list describes the potential categories and the keywords that could be used in the example of laser eye treatment:
Generic search for a product or service: for example, 'surgery' is much more important than 'treatment'.
Comparison/quality: compare laser eye treatment.
Adjective (price/product qualifiers): cheap laser eye treatment.
Intended use/application: short sight laser eye treatment.
Product type:

General product: lasik laser eye treatment.
Model-specific product & product search refinement: laser eye surgery.

Vendor/brand: optical express laser eye treatment.
Location: laser eye UK or laser eye treatment in London.
Action request: select laser eye treatment (or buy).
Reviews: laser eye surgery reviews.
Core Module
Understanding consumer keyword search behaviour​
Part of the Digital experience management Toolkit
Learn about consumer search behaviour in relation to keywords and keyphrases
5. User-generated content (UGC)
To make their purchase decisions, buyers usually look at other people. In fact, 63% of social media users consider consumer ratings their primary information source. So it's vital to get this right to ensure the inbound customers continue to visit your site.
What do current customers think about your product? How are they using it? What benefits have they derived?
User-generated content answers these questions and convinces prospects to buy. It becomes easy for customers to send UGC when you specify a hashtag on social media.
Then, you can repost on your business profile. Here's an example from BMW reposting a customer's picture of X5.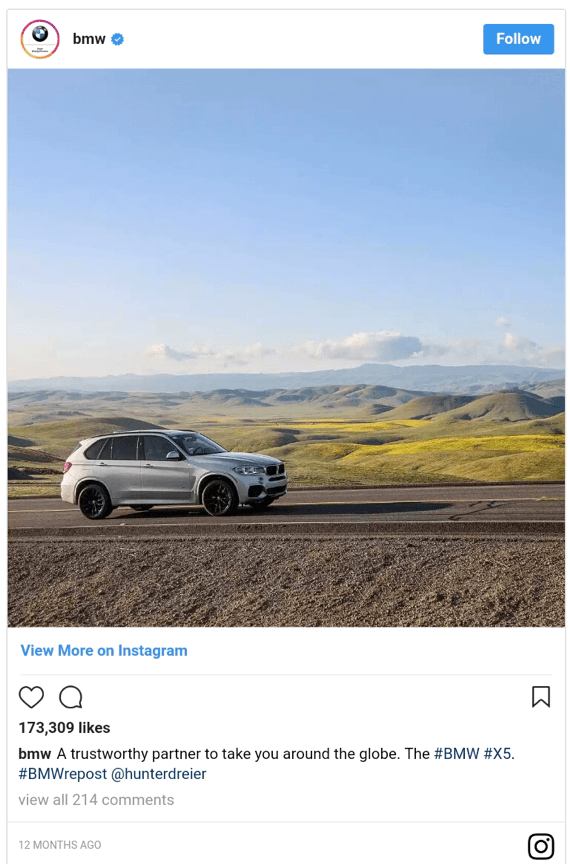 If you're looking for a great case study of UGC, look no further then Busabout. The tour operator offers hop-on-hop-off tours to 47 destinations across Europe. Amazingly, it features 110,000 traveler images of these locations.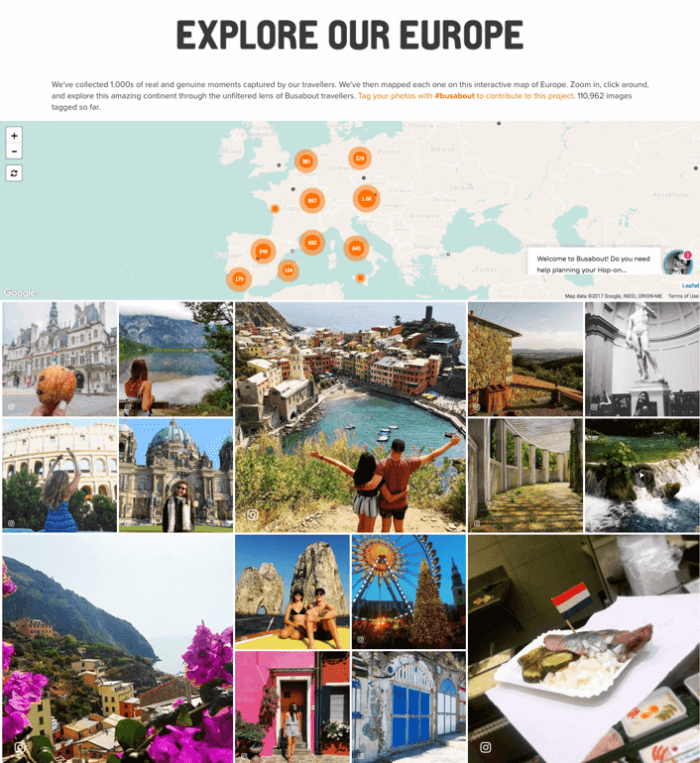 As a result, Busabout achieved a 72% increase in hop-on hop-off page views and a 33% increase in web bookings in the UK.
Core Module
Create a social media strategy
Part of the Social media marketing Toolkit
Learn how to structure a social media strategy and translate it into practical actions to improve your goals
E-commerce inbound marketing in a competitive environment
Implementing a strategy just because it's popular might lead to poor results for your e-commerce store. To avoid this, ensure that you use strategies effective with your audience.
Implement these 6 proven strategies for your e-commerce store and you'll grow your customers and revenues in 2020.