Three key insights from the UK Government's latest report on employers' demand for digital skills
Regular readers of Smart Insights know all too well the importance of having an up-to-date digital skillset. In today's age of the internet and social media, it's become more important than ever for employees to have a sound working knowledge of digital in an ever-growing digitized economy.
The UK government has recognized the need for a digitally literate workforce in our modern economy and the Department for Digital, Culture, Media & Sport commissioned a report, conducted by Burning Glass Technologies, to provide an overview of digital skills demand and to help inform the development of evidence-based digital skills policy.
As with many government reports, there is a lot of information to consume, and although I would recommend reviewing the report in full, for anyone looking for a short précis I have picked out three insights that are particularly interesting.
What do we mean by 'digital skills'
It's fair to say that 'digital skills' is a very broad term that covers a wide range of knowledge and competencies. Everybody's definition will be different and this makes it difficult for governments and organizations to design interventions to address digital skills needs.
As part of this report, Burning Glass analyzed millions of job adverts in the UK to understand what digital skills employers are demanding. As a result of this analysis, the report categorizes 'digital skills' in three ways:
Baseline digital skills – Digital literacy skills that employers ask for in the vast majority of jobs across all sectors in the UK labour market. These include spreadsheet and word processing tools like Microsoft Excel and Microsoft Word, as well as enterprise management software like Oracle or SAP. These proficiencies are increasingly becoming a basic skill required for a majority of occupations.
Digital skills – Competences in and/or knowledge of IT tools including computer programs and programming languages.
Specific digital skills – Digital skill requirements for more technically oriented jobs in areas such as customer relationship management (CRM) software, computer networking, digital media and design software, social media tools, and search engine analysis.
An overall finding of the report is that digital skills are becoming near-universal requirements for employment. As people move up the career ladder from low to high-skilled jobs, there is an increased demand for specific digital skills, and acquiring these skills makes career progression pay more likely.
1. Digital skills are near-universal requirements
Digital skills are not only required for high-skill jobs. They are now required across the full span of the labor market, ranging from entry-level call center workers to sophisticated information technology roles. Even amongst low-skill jobs, 75% of postings are in digital occupations, increasing to 85% of middle-skill jobs and 83% of high-skill jobs.
Demand by skill level

We often think of digital skills in a white-collar context, however, it's surprising what's required across a broad range of roles. For example, Microsoft Excel is often associated with consultants and finance roles, whereas in reality, these skills are also essential to administrative and HR assistants. Blue-collar roles also require digital skills: forklift drivers and warehouse workers often need to know how to use inventory management systems such as SAP.
2. Digital skills offer a gateway to higher pay
Somewhat unsurprisingly, people with digital skills can command higher salaries. The research found that roles requiring digital skills pay 29% over those roles that do not. This difference is apparent at all skill levels with the differential growing at higher levels. The salary differential for digital skills ranges from 14% for low-skill roles, 19% for middle-skill roles, and 33% for high-skill roles.
Annual salary by skill level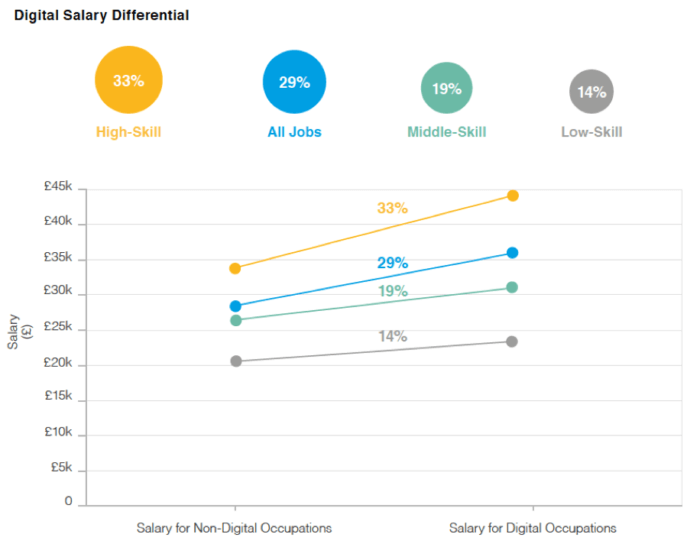 Although baseline digital skills are important across all occupations, specific digital skills provide a gateway to middle and high-skills jobs. Many middle and high-skill occupations have a key digital skill area that lies at the heart of the job, e.g. designers require Adobe Photoshop, engineers must know AutoCAD, and marketers use CRM tools such as Salesforce and Microsoft Dynamics.
The report identified eight common requested clusters of specific digital skills, all of which are crucial for job-seekers looking to advance their careers and gain entry to higher-skill and higher-paying roles:
Productivity software
Software & programming
Computer & networking support
Digital analysis
Digital design
CRM
Digital marketing
Machining & manufacturing technology
One or more specific digital skills are required in 18% of low-skill jobs, 59% for middle-skill jobs and 67% for high-skill jobs.
Annual Salary by Skill Level, Baseline vs Specific Digital Skills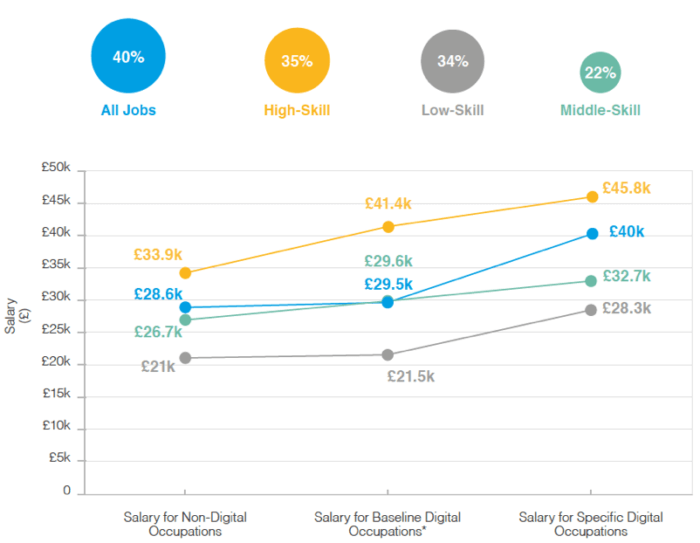 3. Specific digital skills may help workers avoid the risk of automation
The rise of technology in the job market has sparked intense debate about the future of work: will digital technology create jobs, redefine them, or destroy them? Understandably, some people are nervous about how automation may impact their jobs. Whilst advancing technology and AI does pose a risk to some sectors and certain roles, there are also benefits.
The report took findings from Oxford researchers Carl Benedikt and Michael Osbourne exploring the future of work to assess the role of digital skills in understanding the risk of automation. The report found that automation risk is influenced by two factors:
Skill level
Digital skill category
Both are negatively correlated with the risk of automation, meaning jobs with higher skill level requirements and those defined by 'specific digital skills' are at lower risk of automation compared to positions requiring baseline skills only.
Risk of Automation across Skill Levels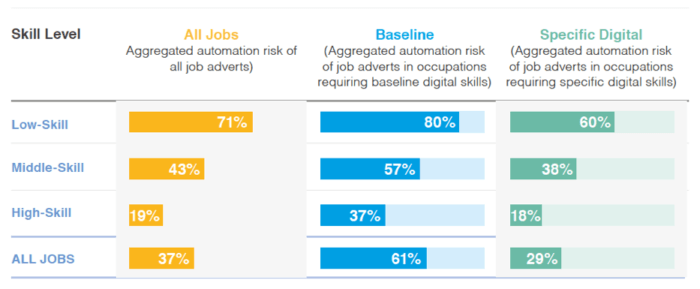 The type of digital skills demanded in a job determines the risk of automation. As technology has advanced, digital tools, such as productivity software, has helped automate certain tasks. As a result, the report highlights that jobs requiring only baseline digital skills have an 80% risk of automation, whilst those at the middle and high-skill levels are 33% and 51% respectively.
This insight demonstrates yet another benefit of improving the proficiency of our digital skills. For individuals working in the digital marketing space, for example, possessing a range of high-level specific digital skills, such search engine optimization, user experience design, and web analytics, combined with an astute judgment and understanding of how they can be applied most effectively, protects us from potential automation.
Conclusion
There are three key implications of the government's digital skills report:
Job seekers need a complete package of skills for success in the economy, both digital and non-digital.
Digital skills policy should be driven locally. Data and finance are in demand in London whilst manufacturing whilst engineering is important in Bristol and Cambridge.
Digital skills will change over time, i.e. we need to constantly up-skill and remain curious.
Source link