A vital step towards marketing digital transformation
In the current climate, digital interactions between brands and their B2B and B2C partners have become a major feature in their customers' buying journey.
Given the complexity of customer interactions via different touchpoints and channels across the modern customer lifecycle as shown in the visual, planning frameworks can help simplify the analysis and prioritization of digital marketing activities.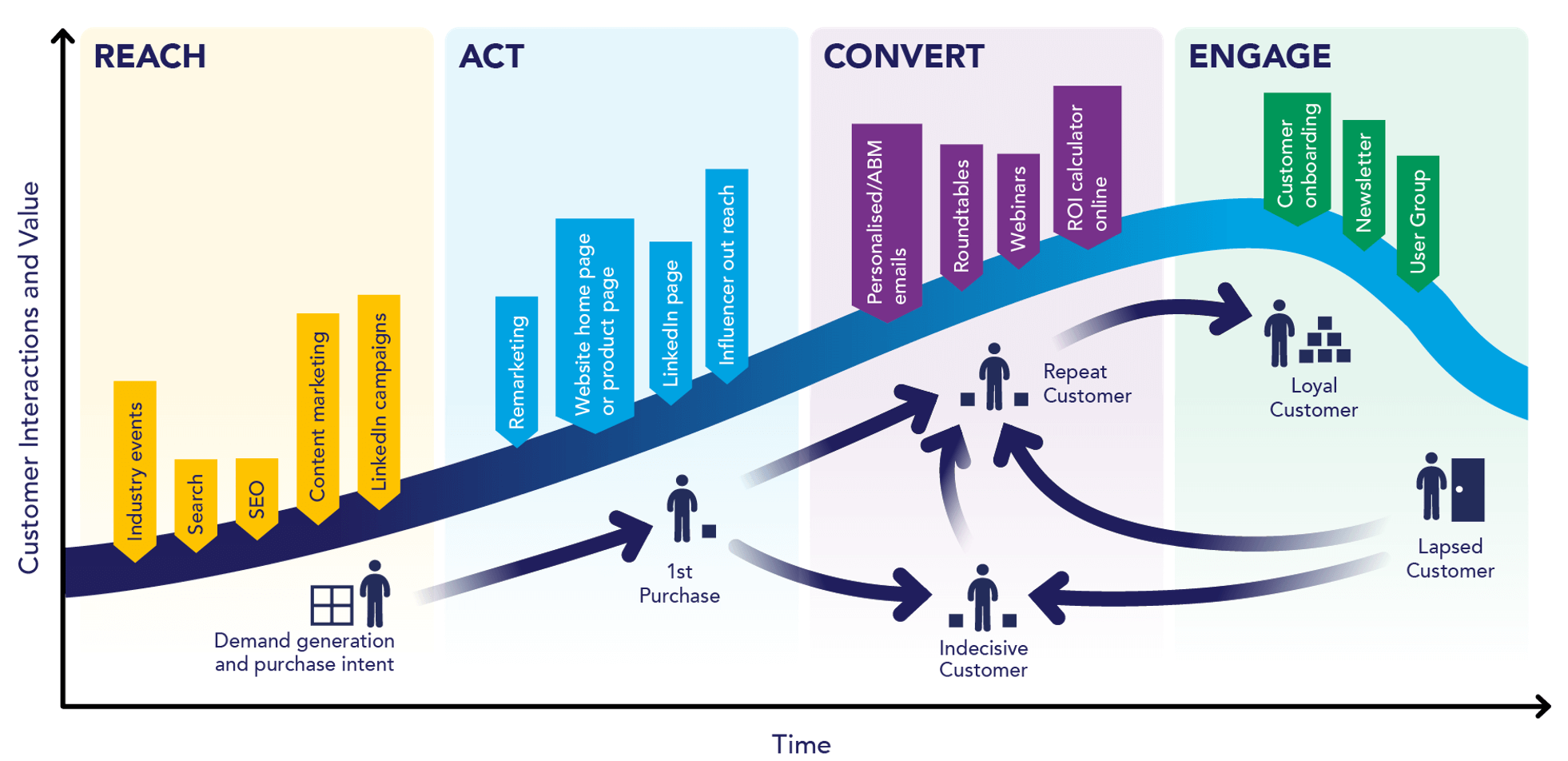 It is sometimes difficult to orchestrate marketing activities in order to ensure that the right digital tactics are used at the right time and in the right place in that journey, to nurture a customer lead. However, in the partner world it's a lot more complex, because before you embark on the development of any marketing campaign with or through a partner, an imperative step is to market to that partner to raise awareness of your brand and educate their teams, so that they really understand your value and are ready to sell.
The Smart Insights RACE model, which summarizes a customer's multichannel journey – Reach, Act, Convert and Engage – is widely recognised by the Chartered Institute of Marketing and marketers worldwide. At Coterie, we felt that it could be adopted for partner marketing to bring the 'market to' phase into the fold, which in our opinion is one that is often overlooked. So by working with RACE model originator, Smart Insight's Dave Chaffey, we developed a RACE model that did just that.
Please view the recorded webinar with myself, Helen Curtis, and Smart Insight's Dave Chaffey, to understand more about our jointly adapted model and how using it could make your partner marketing more effective and efficient.
In the webinar, we discuss the options applying RACE to the three common modes of partnering or collaboration between a vendor brand and its channel partners such as resellers, system integrators, or other service providers. The three collaboration modes summarized in the visual are:
Sell to: Selling directly to distributors such as Value-added resellers who may then sell directly to the end customer
Sell with: Collaborative selling via partners to customers
Sell through: Marketing and sales where the vendor supports the reseller in their marketing activities, but are less directly involved
In each of these cases, it's important to provide partners with the right types of digital assets to support interactions across the RACE lifecycle. We walkthrough templates in the webinar to explain this.

You can view the webinar Using Smart Insights RACE Model in the complex world of Partner Marketing on the resources page of the Coterie website or on YouTube.
Smart Insights Business members can review a more in-depth guide to Channel and partner marketing improvement.
Source link