Social media is one of the best ways to reach your millennial audience, but what should your social media marketing strategy include in order to engage this demographic?
Brands have stopped considering social media to be just like any other medium of communication since millennials have started treating social platforms as one-stop-shops for all of their daily needs.
In other words, with the exponential increase of social media users and shifting consumption patterns, brands have started redefining their social media strategies. Spurred by changes made by the social network platforms, social media has now become a dedicated marketing and sales channel.
Millennials are a particularly important group since their age coincides with peak usage of many social media platforms by age and in particular two of the most popular social networks: Facebook and Instagram. Plus, they are predicted to be the largest target group for 'generational marketing' in future.
What is the age range for millennials?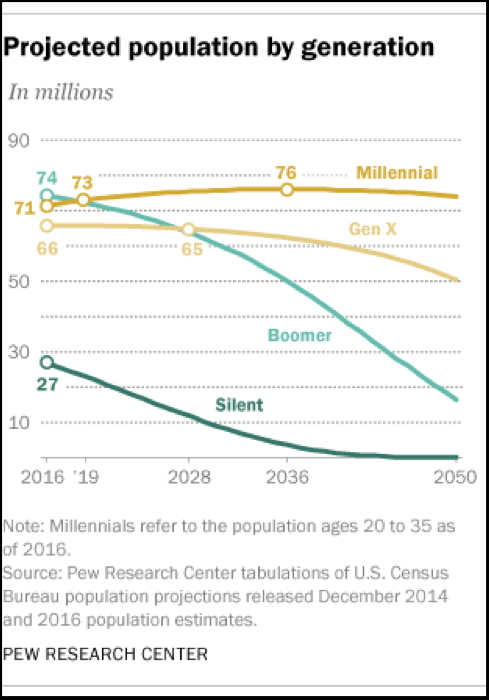 Pew Research Center defines millennials as anyone born between 1981 and 1996 (ages 24 to 39 in 2020). Anyone born from 1997 onward is part of the new generation: Generation Z or 'Gen Z'.
As the chart shows, Pew have also estimated that US-based millennials will be the largest generation from 2020 and beyond outnumbering both the baby boomer generation, Gen X and Gen Z.
Around 35% of the US workforce will also be made up of millennials by 2020, showing that this generation is a key market. As well as being a large target audience, millennials have strong purchasing power, making them a good option for brands wishing to grow awareness and revenue.
Which are the best social networks to reach and interact with millennials?
More than 4.5 billion people are using the internet at the start of 2020 as our social network usage research summary shows. Active social media users have passed the 3.8 billion mark increasing by more than 9 percent since the previous year.
So, to find the most effective way to target millennials with social media requires us to consider the demographic profile of social network users. The Social Bakers social media trends report shows that Facebook and Instagram, two of the most popular social networks are particularly good for marketing to millennial and Gen Z age groups. The peak usage of both Facebook and Instagram is in the key 25-34 age group which includes millennials.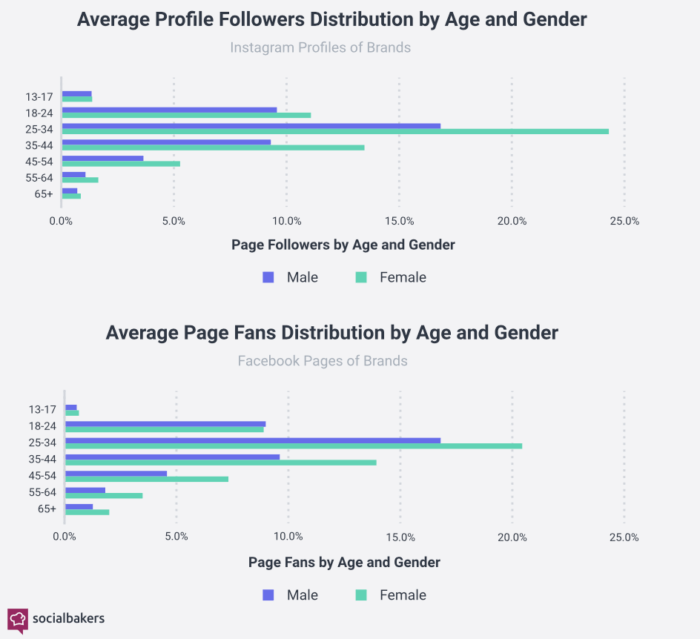 As one of the most popular social media platforms, Instagram reaches one billion monthly active users. The last few years has seen usage of the platform increase exponentially.
On top of this, the platform is seeing more than 100 million photos and videos uploaded to it every day, many of which are posted by millennials, showing that brands need to ensure they are leveraging social media platforms for this audience.
So, the research shows that it's worthwhile considering has to best communicate to millennials on social media, but what techniques can we use to engage them? Consider these tactics:
1. Reach millennials based on what they care about
While millennials are often characterized as being obsessed with technology, pioneers of selfie culture, constantly in need of approval and having a very clear mindset about work culture, marketers have a better understanding of what this generation actually cares about.
Linkfluence analyzed social media conversations and came up with seven key values that matter most to millennials.
These were found to be:
Animal Rights
Sustainability
Environmental protection
Anti-racism
Inclusiveness
Feminism
LGBT rights
Apart from conversations, the study also looked at the motivation behind millennials' shopping behaviour. Almost 50% of millennials prefer to purchase from a brand if their dedicated purchase supports a cause.
Brands that support causes that this audience cares about – not just seemingly supporting them but actually doing so – are better placed to talk to millennials, especially via social media.
Toms is a shoe company based in the US. It followed this theme with the implementation of a cause-based campaign and promoted it heavily through the social media platform. According to the campaign, for every product purchased, the brand will donate an additional product to a person in need.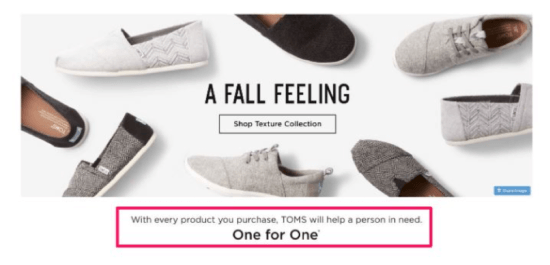 This campaign promotes the brand, hits a point that millennials care about and gives them a reason to buy.
2. Tapping on demographic and behavioural insights
With the changing nature of advertisements, the emergence of social media, paid digital channels and aggressive competition regarding grabbing media space, you need to be collating using insights in order to create social media posts that speak to your target audience.
The important question to address here is how do you find these insights?
Social media provides the opportunity to access a lot of data about your followers and audiences. However, the complexity of this data means that manually analyzing it can be next to impossible. This is where social media monitoring tools pay off, as they can help with brand monitoring and overall social media analysis.
With a social media monitoring tool, it is very easy to gather all the information (mentions, conversation, negative comments, reviews, etc.) and perform social media analysis to find millennials' core interests, behavioural patterns, opinions and past shopping experience. You can use these insights to identify the niche millennial segment that best suits your brand.
In order to simplify things, here are the three most common millennial targeting options to build a social media marketing plan for each and every platform.
Look at behavioural patterns
According to Millennial Marketing, 69% of millennials want adventure in their daily life, which means new experiences. This doesn't have to be anything huge, as small new experiences are achievable and accessible for most millennials.
For example, Birchbox offers custom beauty solutions with sample products based upon users' self-defined beauty profiles. The company has built its social media presence around a feeling of adventure and delivers a monthly box of surprise beauty samples. Users have no idea what's in the box, which creates curiosity and a sense of adventure in a really simple and elegant way.
More advanced targeting
Millennials come under the age group of around 18 to 34-year-olds, in the broadest range. It's not possible to make one campaign that caters to every person within this diverse age group. Just five years difference in age means that certain inherent characteristics change, as do personalities. This ultimately affects how you talk to your audience and where you target them.
For Example, someone who just turned 18 can't afford luxury products, whereas someone who is 26 may have more financial independence in order to make more expensive purchases. You'll also find that the choice of products for a 34-year-old man will be different from those of a 25-year-old woman.
You can't simply target an audience based on the fact they fall into the 'millennial' category. Taking into account these complexities, your brand should focus on one niche age group with similar characteristics and build social media campaigns accordingly.
Look at location
You can't simply create a campaign for all millennials around the world and expect to get good results. Location needs to be taken into account, with campaigns tweaked depending on the area of the world you are targeting.
For example, Indian millennials are considered to be more price-sensitive than their US counterparts, so this would need to be taken into account when creating your campaigns. What works in one country won't work in the other, so you need to look at localization when it comes to building your marketing messages.
Amazon follows the strategy of differentiation with its customized pages, with its Indian homepage focusing on offers and savings while its US looks at products and features.
Here below is the Amazon India homepage: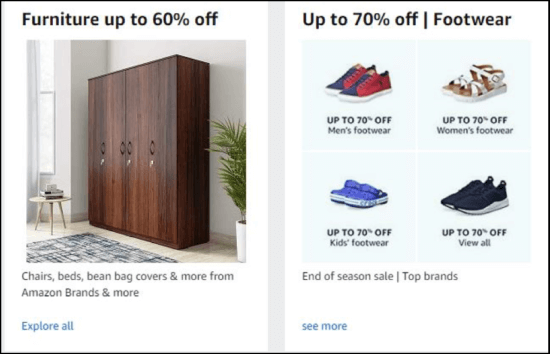 Here below is the Amazon USA homepage:
3. Be proactive on social media
"78% of customers have a firm belief that social media is the future of customer service."
It is essential to be proactive on a social media platform, especially when it comes to comments, questions, and complaints. Millennials lose interest if their message is not acknowledged within 60 minutes, which can be damaging for your brand.
Social media has become the go-to platform for posting queries, getting rid of the need for lengthy email processes or phone calls when it comes to customer service. According to a study conducted by Microsoft, about 47% of millennials use social media to register complaints about a brand's services.
In other words, half of your target segment will be on social media to make complaints or ask for help. It won't be just one set platform either, which is why it's important for companies to not invest all their efforts in a particular social media platform, instead, you need to manage the communities on all platforms where you have a presence.
However, if you don't want to miss out on any customer queries or messages, its better to manage it from a centralized platform. There are tools available that offer a custom dashboard for handling customer support from social media platforms, making management simpler. You can also integrate Facebook Messenger with your website for managing real-time communication.
No matter how you manage mentions, complaints and messages on social media, you need to make sure all communications are on-brand.
Wendy's is a US-based fast-food chain that provides entertaining customer support that matches the brand's overall identity. The humorous take on customer service attracts a lot of attention but also adds personality to their social media marketing.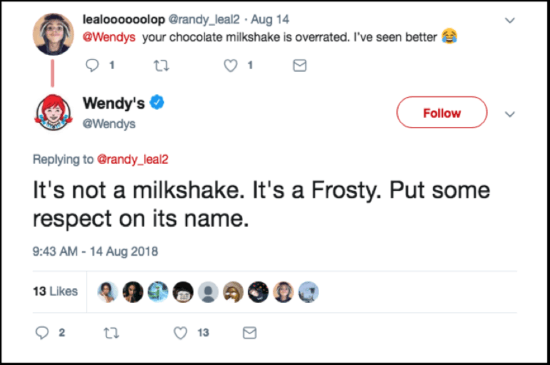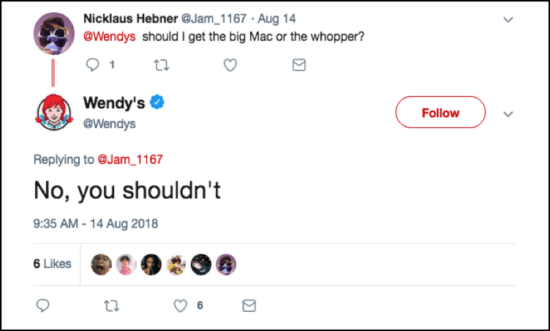 Another good example of great customer service on social media is Zappos. The brand went out of its comfort zone to answer someone's question, even though it was irrelevant to the company. This extra effort – even though the question isn't brand or service related – puts the company in good stead and can help win customers.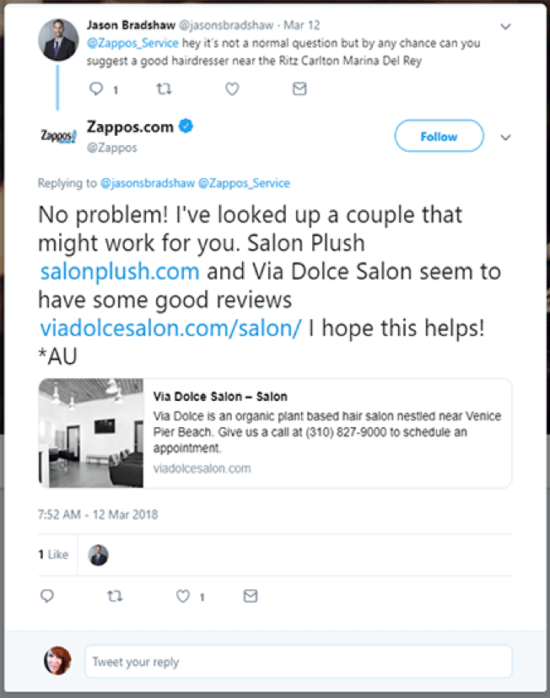 As well as customer service, brands should look at ways they can encourage engagement and conversation on social media. Positive conversations can help show your brand in a positive light, even if customers have posted negative reviews.
Tools like polls on social media can be effective at getting people involved and can also help you create a number of different posts depending on the results. You can either create polls related to your brand or go further afield and react to current trending topics.
Netflix is very creative when it comes to new series promotions and often uses polls or quizzes on social media to support its campaigns and engage followers. The below image shows one of the tactics used to promote the streaming platform's third series of "Stranger Things", which encouraged a lot of engagement.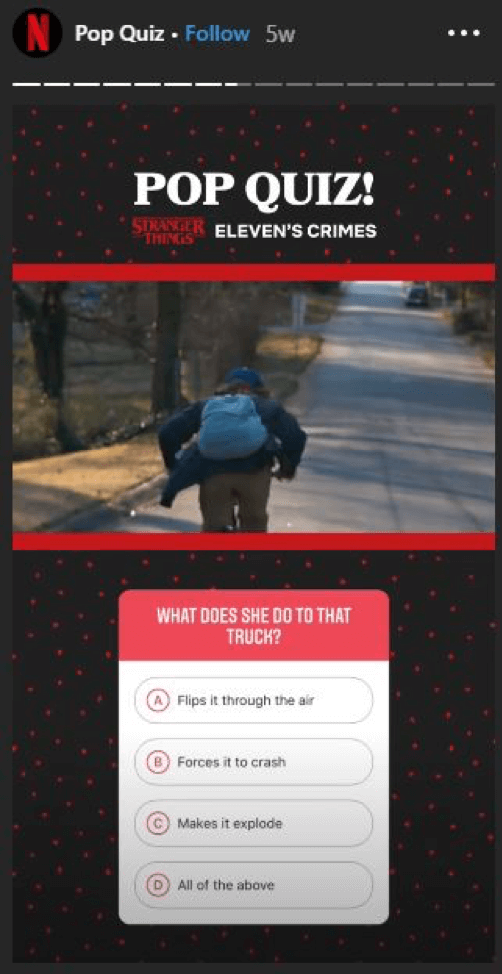 Live streaming is possibly one of the best proactive social media tactics. However, it comes with a number of challenges and may not be suitable for all brands. The growing viewership of live streaming has seen all the major social media platforms integrate the feature, so you have plenty of options when it comes to the platform you choose.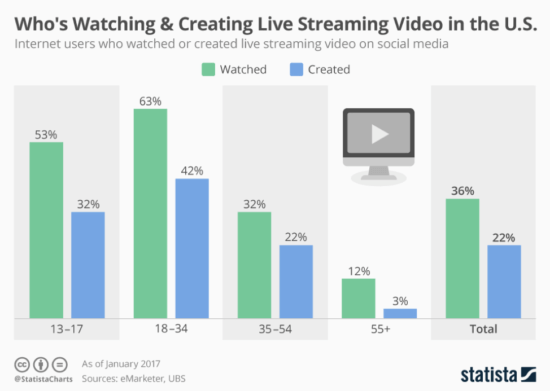 It's clear from the above graph that millennials consumed (63%) and created (42%) a lot of live streaming videos in the US during 2017, with these figures likely to have increased in the last few years. The data is also quite high compared to other age groups. This means that live streaming should be part of your strategy if you are targeting millennials on social media.
4. Increase reach with user-generated content
Brands often spend a large part of their marketing budget on social media, but ROI doesn't always reflect this, especially as many platforms are now very much pay-to-play.
As per Kenshoo's social media spending report, spending on social media has increased to 27% year-over-year in Q1 2019 compared to the previous year. However, there are a number of ways you can get higher impressions and credibility organically, reducing your social media spending. User-generated content (UGC) is a great way to engage your audience and provide social proof.
"84% of millennials agreed on the fact that they had a previous influence from a stranger in purchase decision" – Gartner
There are various ways to share UGC on social media, including simply sharing posts your brand has been tagged in, creating testimonials to be posted, adding other users' Stories to yours or even sharing videos from followers. Building UGC into your strategy will provide you with free content to share – so long as you seek permission and tag the original poster – as well as helps to show prospective customers how trustworthy your brand is.
Posting UGC usually leads to more people sharing and tagging you in posts as well, as your followers will appreciate the opportunity to be featured on your social media accounts.
Toyota shows the power of user-generated content in enhancing reach and engagement. With its unique strategy of featuring street artists throughout its social media posts, the brand saw 440% higher Facebook ad engagement.
5. Offer convenience with social commerce
When a user buys from an e-commerce website, they have to pass through a lot of redirections and processes to finally make a purchase. This process can cause a user to bounce off the site and lead to cart abandonment, as too many steps results in poor customer experience. Now, comparing e-commerce with social commerce, users can engage and purchase a product through a social media platform, which can boost engagement and deliver higher conversions.
Looking at the figures, there is a greater level of conversion when brands use messenger apps to promote a product – such as Facebook Messenger – compared to the standard website purchase funnel.
Now, every social media platform has a different set of features and processes to set up social commerce. Facebook launched Marketplace in late 2018 allowing merchants and individuals to sell products.
Merchants can integrate their e-commerce platforms like BigCommerce, Shopify, ChannelAdvisor, etc. with Marketplace to get started with selling products. This means they don't necessarily have to direct followers to their website in order to encourage purchase. Below is the example of how Facebook Marketplace looks like when you start listing products:
This level of ease can help you easily engage your target millennial audience on social media, as the ability to make purchases without leaving a site or app is always going to be a big plus.
6. Use influencers
Influencers may have had their issues as of late, but they are an effective way of engaging your target audience. Each influencer will come with their own dedicated fanbase, as well as the opportunity to reach new audiences.
Working with influencers to either share your post or to create their own posts that feature your products will likely see a good level of reach, engagement and new followers heading to your social media profiles. Influencers also encourage followers to have a conversation about their posts, which you can join in with in order to express your brand personality.
It's important to remember, though, that you need to choose the right influencer for your brand and campaign. Selecting one that makes sense to your brand, as well as your audience is key, as inauthenticity can see adverse results that can ultimately damage your brand's reputation.
Targeting millennials with influencer marketing requires various levels of research and analysis of user personas. One study predicts that 58% of millennials positively react to ads when their favourite digital personality is featured in them, showing that influencers can be part of your organic and paid social media strategies.
Sony has previously used 30 influencers to promote Xperia Z5 phone, which resulted in a reach of 17 million people. While most brands won't see this high level of reach, you will likely see a positive uptick.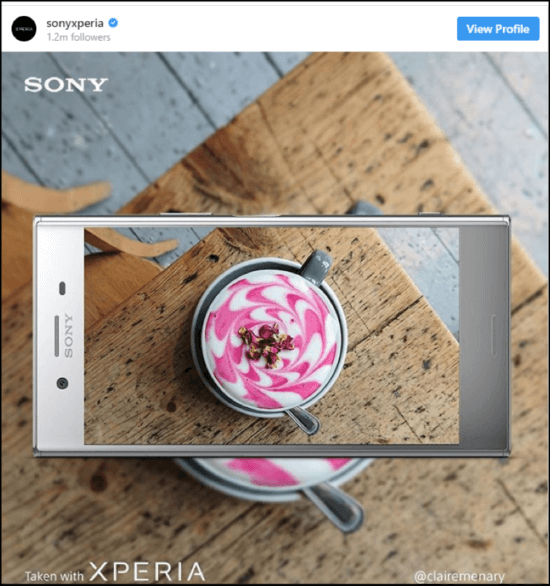 7. Leverage viral memes to target millennials
A meme is the most underrated tool when it comes to designing a marketing strategy. Using one in the right way and the correct context can add humour to your tone of voice and allow you to share a lighthearted message, which can have a positive result for both B2B and B2C brands.
For millennials, mems are a communication medium. This means that if you want to target this generation, communicating in the same way – so long as you are still on-brand – is important. Some big brands already started using "meme marketing" to promote involvement through interaction.
Netflix is one of the top brands that uses meme marketing in an effective way, often sharing memes of its shows on various social media platforms. This is completely on-brand for the streaming service and can start conversations, as well as lead to the creation of UGC.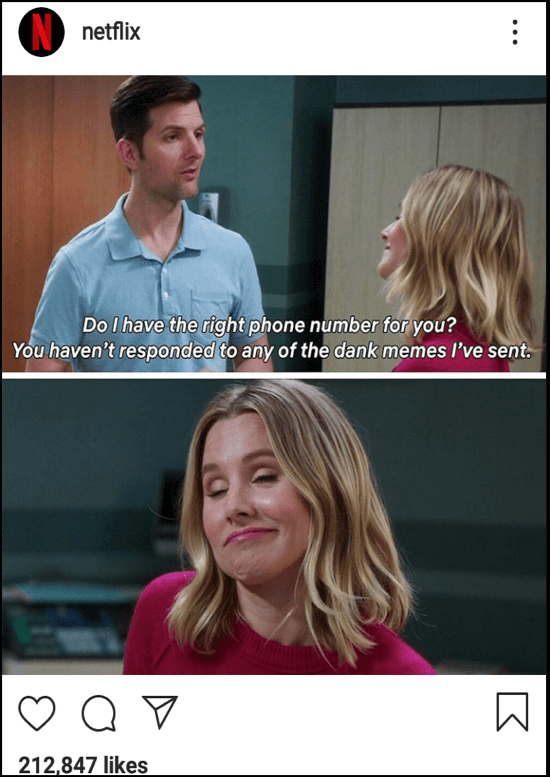 Comedy Central is also very creative when it comes to its use of meme marketing on Twitter.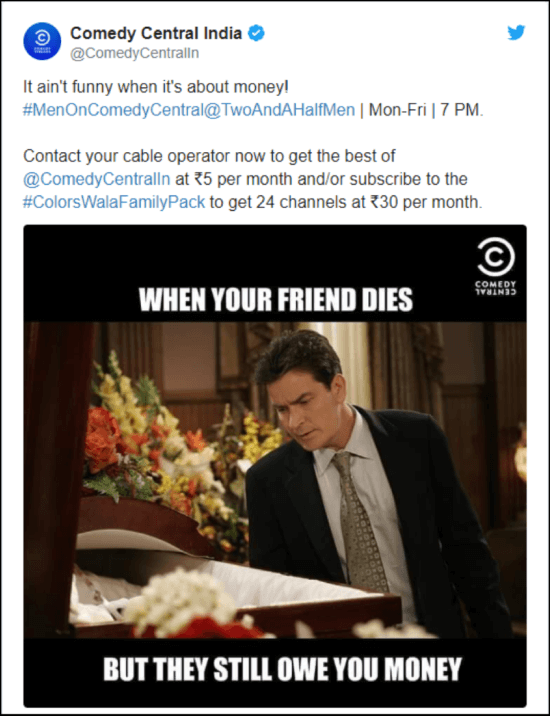 One of the best parts of meme marketing is that it allows you to react to current events quickly, keeping you relevant while also allowing your brand to stay ahead of its competition.
Wrapping up
The whole point of creating and redefining strategies is to reach and engage your most profitable segment and transform them to your loyal fans. If this segment for you is millennials, social media is the way forward.
However, you can't simply pick one of these strategies and hope for the best. You need to incorporate various strategies to create a full, engaging social media marketing strategy that can be integrated with other channels. For example, meme marketing can't be used successfully unless you have identified your core segment and its behavioural pattern from social media monitoring.
In a world of rapidly changing trends, it's a complex task to make a strong enough impact to create in loyal customers. While these strategies may work now, you need to stay on top of the latest trends and create an agile social media strategy in order to ensure your target audience stays engaged.
So, when it comes to targeting millennials, these seven strategies are a good place to start.