The May 2020 core update highlights how different types of businesses are affected.
In the past, Google created and publicized named algorithm updates like 'Panda', 'Penguin' and 'Hummingbird' focused on introducing a major change to improve results quality. Google was fairly open about the goal of an update and the impact it could have.
Today, named updates are less common, instead you will probably have noticed that Google makes several 'Core updates' each year that it may announce through its Search liaison Twitter channel or its Webmaster Tools blog.
In May we have seen a core update notified as usual via the Google Search Liaison Twitter channel that we recommend you follow: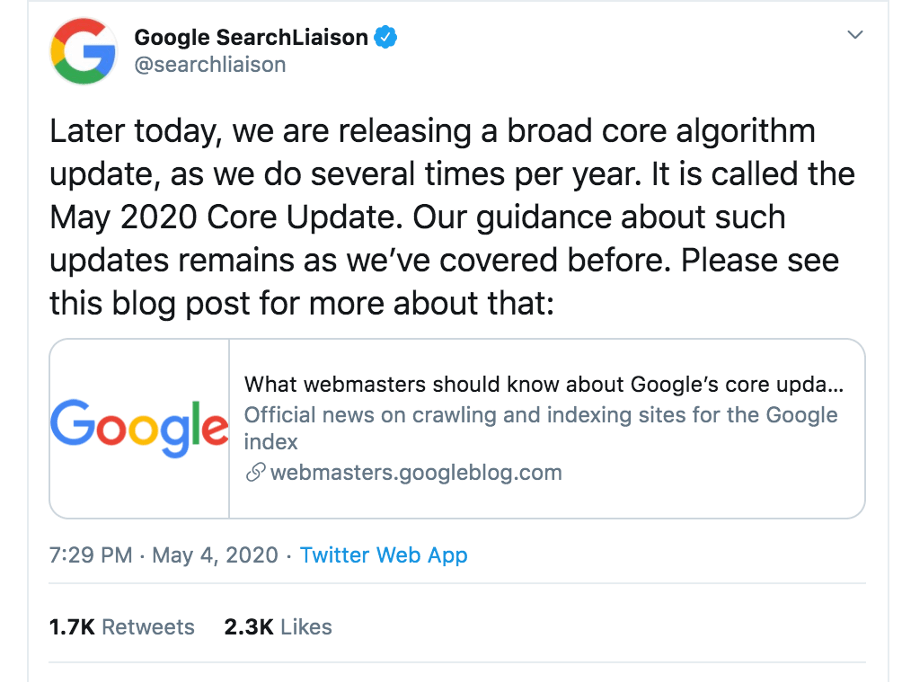 Source: https://twitter.com/searchliaison/status/1257376879172038656
In their post What webmasters should know about Google's core updates Google explains these like this:
"Each day, Google usually releases one or more changes designed to improve our search results. Most aren't noticeable but help us incrementally continue to improve.
Sometimes, an update may be more noticeable. We aim to confirm such updates when we feel there is actionable information that webmasters, content producers or others might take in relation to them.
Several times a year, we make significant, broad changes to our search algorithms and systems. We refer to these as "core updates."
In the Webmaster tools blog post, Google notes that usually there is nothing wrong with pages that perform less well after a core update. Instead, the changes are about improving Google's systems assess content overall.
Actions for businesses to take?
Given that the core updates could make a significant difference to your traffic and business you should ensure you routinely track the impact of these through monthly or weekly reviews.
We recommend you either use Google Analytics or Google Search Console to track changes each month or you could implement a dedicated change monitoring dashboard like this created by Google Analytics consultant Aleyda Solis.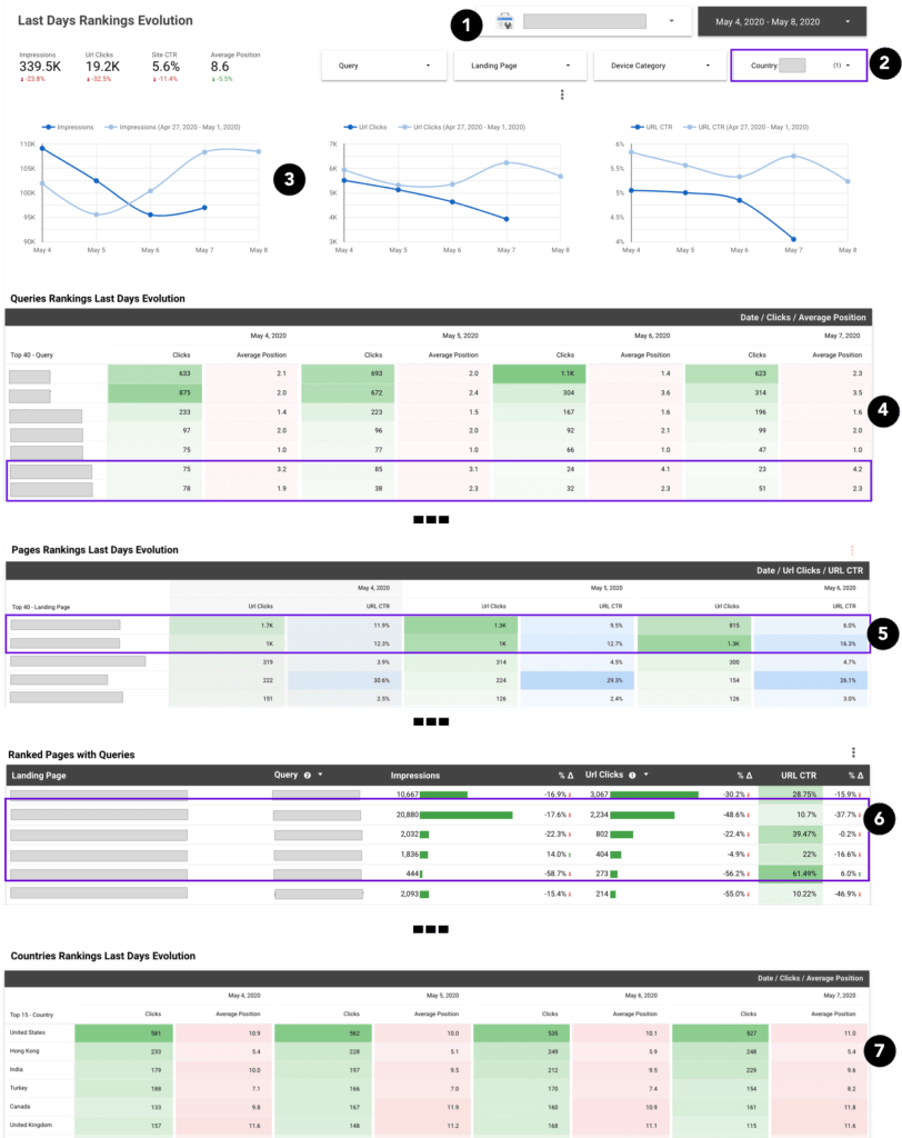 https://www.aleydasolis.com/wp-content/uploads/2020/05/google-data-studio-search-console-update-rankings-analysis-report-1624×2048.png
Google also advises site owners and editors to 'Get to know the quality rater guidelines & E-A-T' which we have referenced previously. Remember that EAT stands for Expertise, Authoritativeness and Trustworthiness.  
4 case studies to provide further insight into how google core updates affect businesses in different ways
This really useful article https://www.gsqi.com/marketing-blog/may-2020-google-core-update-case-studies/ by Glen McCabe also has four interesting case studies that shows how core updates affect businesses in different ways. 
Here are some of the insights from Glen McCabe's review that identified key areas to be addressed:
Case 1 – Recovery From The March 2019 Core Update
The first case study is how a site recovered from the March 2019 core update. which experienced a 40% drop in traffic.
User Experience
The site had several key UX issues, including having giant calls to action pushing down the main content throughout the site.
Content Quality and Structure
The site also combined some important content on one page that should have been on multiple pages.
YMYL & Authority
As the site specialized in the health/medical sector it's categorized as "Your money or your life" (YMYL). This means, any site that can "impact a person's future happiness, health, financial stability, or safety" is held to a higher standard. So, it's important to make sure that content is written by expert-level authors to maintain this level of standard.
Technical SEO
Several technical SEO problems were discovered. For example, the site's internal linking structure was effecting key pages throughout the site from linking directly to other key pages.
Case 2 – From Medieval Panda to Core Updates and Beyond
The second case study is an example of how a large-scale, complex site in the news sector addressed overall site improvements and introduced a continuous audit process to help manage core updates.
Maintaining Strong Quality Indexation
This case study highlights the importance of identifying important to surface those lower-quality urls that can affect performance.
Technical SEO issues that can cause quality problems
When managing with complex sites, more technical SEO issues can occur. So, the lesson from the case study is to continually analyze the site to surface those and fix them as quickly as possible. For example, canonical problems, render problems, meta robots tag issues, robots.txt issues, performance problems and some technical issues to review.
Authority – The importance of A in E-A-T
In line with the E-AT acronym, it is important to recognize the strengths of your content and site performance. In this context, the Authority was a strength for this new organization, so the action taken was critiquing content that is published to be consistently positioned in this way.
Case 3 – The Ghost of Fred And A Reminder To Continually Analyze
The third case study is an example of a site that has experienced challenges from major algorithm updates and how they have recover from these updates. This is common when sites are operating in a competitive niche where there is very similar content to the competition.
Tough Niche and The Need To Clearly Differentiate Your Site
Through google organic traffic dropping by 40% since the May update, an audit on the site identified that too many similarities in content were being featured on the site. Which in means sites need to differentiate as much as possible from competitors in the market, as it becomes very hard for Google to determine which site should rank well over the others.
Aggressive and Disruptive Advertising
A common tactic with drops in traffic is to increase advertising or promotional activity on sites. This action can prove effective when planned in the right way. However, continuous aggressive and disruptive advertising situation affects the user experience across both desktop and mobile.
Quality Indexation
The depth of content across the site, specific to the niche sector was identified as a factor affecting performance. When this occurs it is important to review and update these low-quality index pages, to support the improvement of the overall quality indexation of the site.
Case 4 – Recovery From A Non-Core Update During The May 2020 Core Update
The final case study is of an affiliate site that experienced a 44% drop in traffic, pretty much overnight.
Cutting (Redirect) Ties and Killing Mutual Links
I can't explain too much on this front, but there is another site they own that covers a different vertical. There were thousands of links from that sister site to this one and many were followed. There were also redirects set up from a number of older urls on that site to the one I'm covering here. Also, both sites were hit on 4/2/19. Yep, it was an interesting case for this company.
Nuked Comments
A site that is not moderating comments and increasing high-quality comments can experience performance issues as they form part of the overall page content and can drag quality down. In this case study, the site owners decided to remove all comment from the site as they had not been properly monitored to help minimise further drops in page quality.
Summary
Based on the insights from the above case studies. Google core updates can make a significant impact to a site performance and these drops in traffic can be instant. As for many marketers, this would be quite an alarming position to be stuck in, if you started work one morning and experienced these drops.
Although learning, planning, optimizing and implementing interventions to manage these updates is not always clear for marketers to achieve and requires a lot of trial and error. The case studies do promote the importance of marketers regularly monitoring their site performance, page quality, depth of content and it's relevancy within the sites specialised field. From a user experience, many sites want to achieve a high level of engagement, however, heavily used advertising techniques can impact the performance of sites, when these tactics are compromising the positioning of content.
Following the guidelines, regular monitoring of the SEO technical performance of a site and committing to high quality and relevant content across the site appears to be a good start point, to help manage the lastest google core update.
Additional Resources and tools to help marketers monitor the latest google core update
Aleyda Solis: Analyzing A Recent Google Update Impact via Search Console Data w/ a Segmented Google Data Studio Report
Google Webmaster tools blog: What webmasters should know about Google's core updates