Businesses will always need specialist digital skills
So, Mark Ritson believes it's time to shut down digital marketing teams for good. I disagree. Why? For the simple reason that for businesses to compete, digital marketing demands excellence in specific digital skills, which are integrated throughout marketing.
For me, larger businesses need a core digital team or Digital Marketing Centre of  Excellence to ensure that digital marketing investments are prioritized and the latest techniques are used to ensure businesses can compete through digital marketing platforms, such as Facebook, Instagram, Google, and LinkedIn, which influence so many purchases today.
I'm not saying that marketing roles aren't important, far-from-it. Marketing directors, brand, product, and campaign managers are at least as important to the business as digital marketing specialists, but it's about getting the balance right. It's not realistic or desirable to expect any of these marketing generalist roles to know about the latest Facebook attribution tool or Google algorithm change, for example. Specialist digital roles will always be required to manage digital technology and insight, and to work with agency digital specialists to use the most effective techniques.
Digital marketing is still one of the most in-demand skills in 2019 according to LinkedIn and their job listings show thousands of digital marketing roles in most countries.
Of course, the importance of digital skills depends on the market, in this case, it's financial services, since Ritson is referring to another Marketing Week article with the provocative, but as we'll see, misleading headline:
"There's no such thing as a digital team: Co-op Bank rethinks marketing as it launches business campaign"
Yet in many sectors like financial services, retail, travel, and business-to-business I believe that digital marketing roles and teams are here to stay since digital is an important part of the buying process.
In all of these sectors, there is an 'always-on' demand from customers searching for and comparing products from different brands, which means that digital media and websites are a key part of the customer decision. They inform the decision, even if the purchase eventually happens offline. Take the example of a multichannel retailer like Argos where nearly 60% of purchases are influenced online, even when many consumers prefer to 'click and collect'.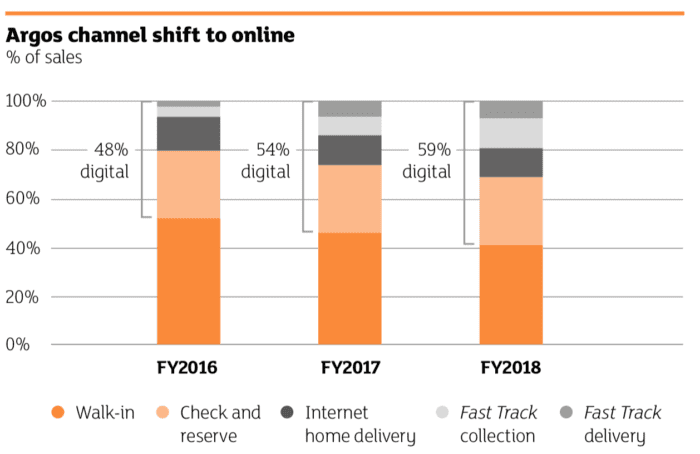 Ten digital skills needed to help businesses compete
In our digital marketing job descriptions template we list essential requirements for different digital roles that have become important for businesses to prosper. Here are ten roles that are essential in any larger transactional multichannel e-commerce business, or where a specialist is needed to work with an agency managing these activities, so they can ask the tough questions to review performance.
As we look at these ten roles I'll compare to real roles, which we see in the wider Co-Operative group (the article in question was mainly looking at the B2B Co-Op service).
As always, I'll use our RACE planning framework to look at how the role supports the conversion funnel/customer journey.
Plan digital marketing
1. Chief Digital Officer or Digital transformation manager
Referenced in the Ritson article, many larger businesses now recognize that there is a need to integrate digital marketing activities across all marketing. Larger organizations need a long-term roadmap to make changes to their structure, technology, and skills.
Example Co-Operative Bank role (from LinkedIn): Chief Digital Officer
2. Digital marketing manager
In larger businesses, these are needed to coordinate all the other digital specialists required. A traditional marketing manager or director may not be able to speak the right language to get the most out of these other specialists.
In smaller, businesses, a digital marketing manager is a key role, as they are needed to manage key activities like search, social, email marketing together with the website. These are all specialist skills needing digital experience.
Marketing Technology manager
Our Essential Digital Tools infographic identifies 30 key digital technologies needed to manage today's marketing processes and insight. These need a digital specialist to integrate marketing and IT to deliver the relevant services to marketers.
Example Co-Operative Bank role: Head of Digital Operations
Reach
3. Organic search (SEO) manager
Given that Google mediates customer intent for products, organic search is the main traffic driver for many businesses. If, as this research shows, you are a multichannel retailer getting half of your online orders via this channel, you want a specialist to protect and grow this.
Example Co-Operative Bank role: SEO Lead
4. Pay per click (Google Ads) manager
Likewise paid search is growing in importance and needs a specialist to manage it, often alongside an agency.
Example Co-Operative Bank role: Media Manager
Act
5. Website / Content manager
Today, many brands and product managers are empowered to update product information via the CMS, but a coordinating role is still needed to develop a content marketing strategy, maintain quality and to compete and run optimizations.
Example Co-Operative Bank role: Digital Content Lead
6. Digital Analytics Exec
Working across all types of customer interactions an analytics specialist can set up reporting and analyze defects and opportunities to improve. They can also integrate with the business analytics or insights team.
Example Co-Operative Bank role: Senior Digital Analyst
Convert
7. Front-end developer
Having in-house resources to make technical changes to test and improve digital experiences can reduce reliance on agencies, as well as improve reaction time when issues arise.
8. Conversion Rate Optimization specialist
Today's websites shouldn't be static with a design style refresh every few years. Instead, a continuous approach of running structured experiments is what is practiced for years, by all the well known global online brands from Amazon, Facebook, and Google to Booking.com and Expedia. Optimization skills can be outsourced, but the brands mentioned have these resources in-house for a reason.
Example Co-Operative Bank roles: Digital Optimisation Lead, Digital Performance & Optimisation Manager, Senior Digital Performance Consultant
Engage
9. CRM and Email marketing manager
Email marketing can help drive conversion across the customer lifecycle but often contributes most as a customer communications tool, so that's why it's here. Our Email marketing trends report shows the contribution that email still makes in many companies. Improving its maturity again requires a long-term program.
Example Co-Operative Bank role: CRM & Direct Communications Executive
10. Social media marketing exec
Like email marketing, social media works best as a customer advocacy tool, which will prompt acquisition too. With the range of social networks and the importance of Facebook and Instagram, in particular, managing organic and paid social often requires a specialist role who may work with/integrate with PR and influencer outreach roles.
Example Co-Operative Bank role: Digital Social Lead
Final thoughts
So, there are ten strong reasons why I believe digital teams are here to stay –  digital roles are a core part of business-as-usual. It looks to me like the Co-operative bank, like many other large organizations, does still have a digital marketing team and will do for some time to come.
Looking to the future, there are many views in Mark Ritson's article I do agree with. Digital marketing should focus on the core acquisition and retention drivers rather than getting distracted by 'shiny objects' – he mentions AR and VR. He acknowledges that digital marketing is only going to increase in importance and traditional marketers who don't adjust are 'on the way out'.
We do need to integrate digital marketing skills across marketing teams and, with time, the size of the central digital team should decrease to core digital management roles. The roles outlined above should be part of a wider marketing team and often are.
I always preface 'digital marketing strategy' with 'integrated' since this is the communications challenge that many businesses face. We have to avoid the past mistakes of 'digital silos' and the digital specialists need to work closely with their colleagues across the business. I like the use of 'Lead' in many of the Co-operative Banks' roles – it shows they are responsible for digital activity, but others across the business they work with are responsible for it too.
In March 2019 it's 30 years since the birth of the web. So digital certainly can't be called new media any longer… 30 years on, we certainly know it's not 'cheap, quick or easy' as I remember some promising. It's often expensive, time-consuming, and complex, which is why we still have many digital transformation programs in play and digital roles are here to stay.
Source link